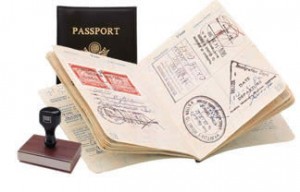 What is a visa?
A visa is a document that sticks to your passport. This document usually takes certain time information that allows you to be in the country and the type of visa. Each country has its own style and not all put the same things.
Types of visas
There are different types of visas, here is only the most common:
Transit Visa – Allows you to make stops in transit countries. maximum 3 days.
Tourist Visa – Allows you to visit the country as tourists (just for your money) in general are usually free. maximum time between 1 to 6 months.
Work visa – allows you to work whenever a company for the country of destination hiring you. wider and renewable maximum time.
Student Visa – Allows you to study in the country of destination if you are enrolled in a school in that country.
Entry visa – It is an authorization to attend an immigration office in the destination country and apply there formal entry (it is important to note that just the possession of a visa does not guarantee entry into the country, this can only decides immigration officer). This is a way for governments to control the movement of foreigners. These visas are of two types: passport, allowing access to a country for a visit of defined duration, and immigration, representing an authorization to reside in the country permanently. The latter require many more requirements, it is often difficult to obtain them.
Exit visa – Is that some countries require their citizens when they want to travel abroad. It is required visas for the abandonment of a country that is in unfavorable political, social or economic conditions.
How to apply for a visa?
We have two options for visa:
1- Approach the embassy of the country nearest destination (can be done at any embassy of the destination country you want to go even if you're outside your own country, very few countries like Pakistan require you to apply for a visa in advance from your own country).
2- In the same border. Once delivered the passport at the office of exit go to the immigration office of the incoming country. Make sure you have everything you need to acquire a visa and before doing this, make sure the border where you go can do that.
Documentation required for a visa
For general rules every country has a different set of requirements for visa. What I teach below is a list of common documents that have been found by the network. If you plan to travel around a country where required visa sure to follow the specific steps in that country.
Signed visa application. For minors parents are required to sign.
1 photograph stuck on application
Valid passport. Attention to the expiration date. Passports must have the scanned photo, not glued.
If business trip, you must carry documentation proving the reason for the trip. Not more out travel plans or services you have already contracted, tours, hotel reservations, tickets and more.
You can apply for visas for a single entry, two entries or multiple entries.
1 Extra photo (or more just in case)
Note: This is a topic a bit complicated, especially for newbies like me that the only time you see me forced to use their passport recently in Morocco, and that travel to Morocco is almost as easy as traveling in Europe, you need only a current and fill a tiny form the same airline passport (if traveling by plane) get. For reasons of the present lack of experience and how difficult it is to find information to guide I declare this page open to changes implemented I will go as experience is gained. Please any suggest if anyone has any additional information that can help others or find any errors in the procedure or explanation of this post please tell me and I will modify gladly.
Thanks for reading me!
If you like this post, you can invite me a coffee 🙂  Donate