One of the most important moments in a trip is the time to camp. It is probably the most vital moment, if we choose wrong the site affect us in our rest and affect our mood for the next day. A good choice help us to have a happy journey. How to camp on a trip? Lets go see it.

Choose the place
This is the first step. We must understand that free camping is not legal in every country, unfortunately there are very few countries that free camping is legal. So we must be careful when choosing. Here are some tips:
Choose a place outside sightjacking.
If the land is private you should to ask the owners of the farm always first, farmers are good people;)
Find a flat place and if it is possible with turf or short grass, will be like a squishy mattress to sleep.
If it is possible, find a place where sunlight reach you in the morning, and the tent can dry the night dew in the morning.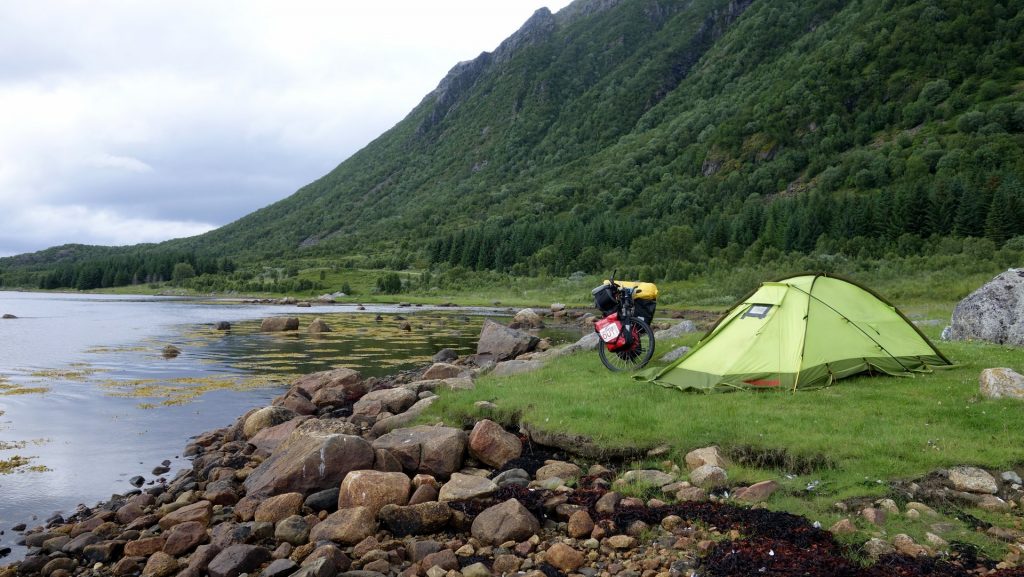 If you camp near the ocean or sea, make sure you stay away from the tide. It can be a disaster and very dangerous to be within reach of the sea.
Clean the area of stones and branches where will camp, make sure there is nothing that can puncture the tent.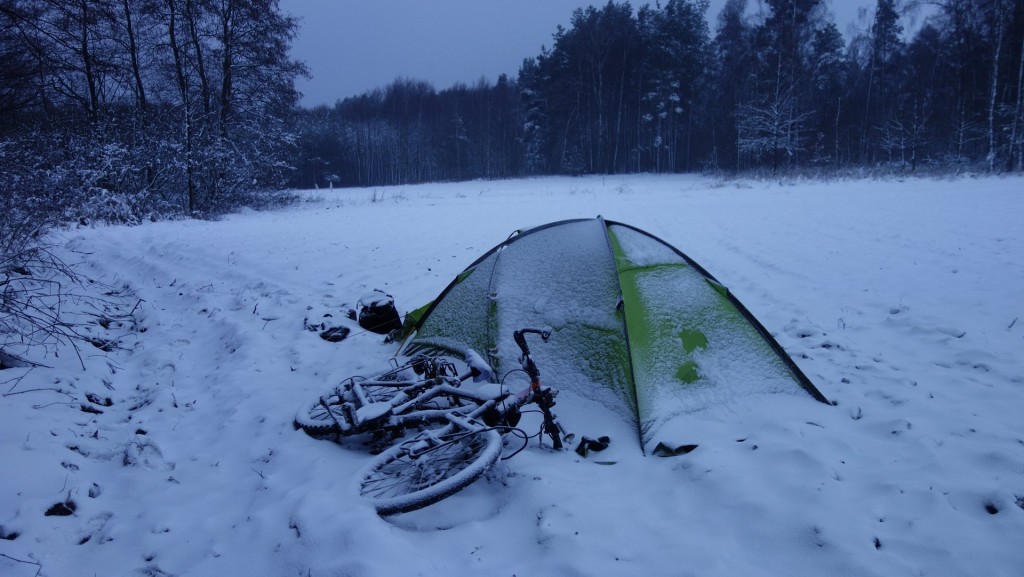 If snow be sure to remove all traces of snow and camping away from the trees. The weight of snow can break branches and trees. Check that the area is out of risk of avalanches.
Choosing the tent
Climatology
You can travel and camping in the four seasons and virtually anywhere in the world, but there is much more difficult than others for their climatological characteristics places. We have to choose Our staff depending mainly on the season in which we want to travel. If you have a tent for summer and the snow catches you in Poland you'll have a very bad moment, if you have a tent for a winter and you are in the desert of the Monegros in Spain in middle of August you will suffer also a lot.
Tent for a camping
The tent is obviously the most important thing in this post. A good choice make the difference between a happy or unforgettably unforgettably terrible journey. Choose dark and easy to camouflage, green, brown or military camouflage colors are best. Forget red, yellow and any kind of gaudy color as a cycling tour we are looking only to go unnoticed.
Type tunnel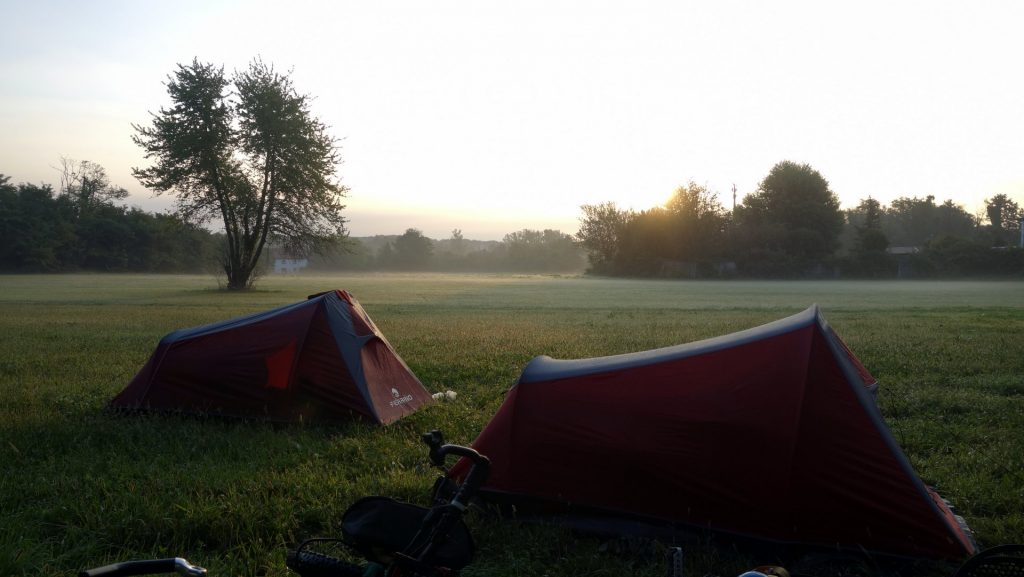 These tents are easy to install and are usually very light. Usually have good access inside and its elongated aesthetics make them easy to find a place to camp. The negative point is you have to find a place to stick in the ground. If the soil is rocky where you want to camp or are above a pavement will be very difficult to install, then do not hold up for themselves.
Type igloo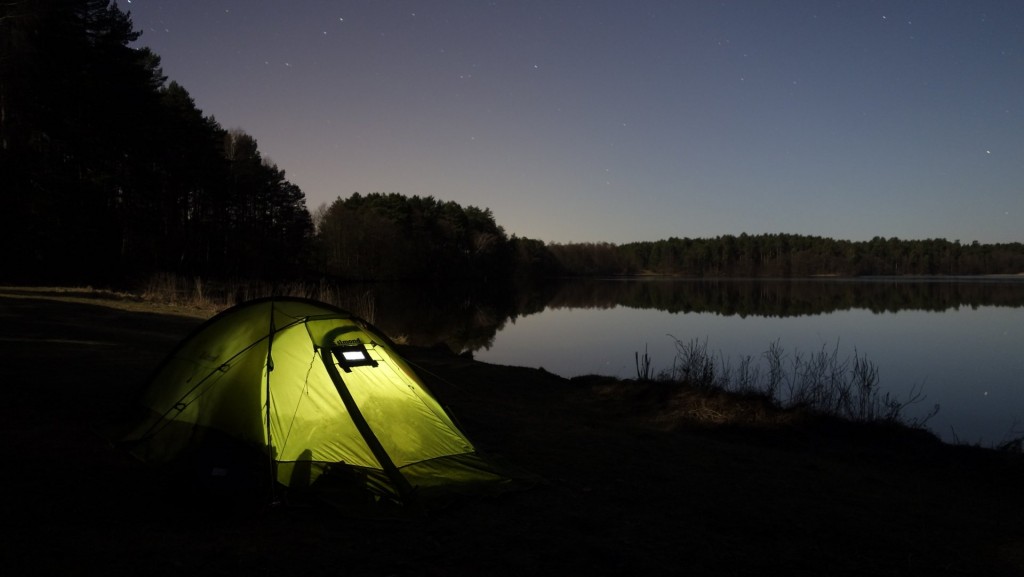 These are my favorite Can be installed without sticking them to the ground and are resistant to any kind of weather. They are also very spacious inside and have a good space to store luggage. To travel are the most adaptable to any terrain. A authentic adventure tent!
Extra tips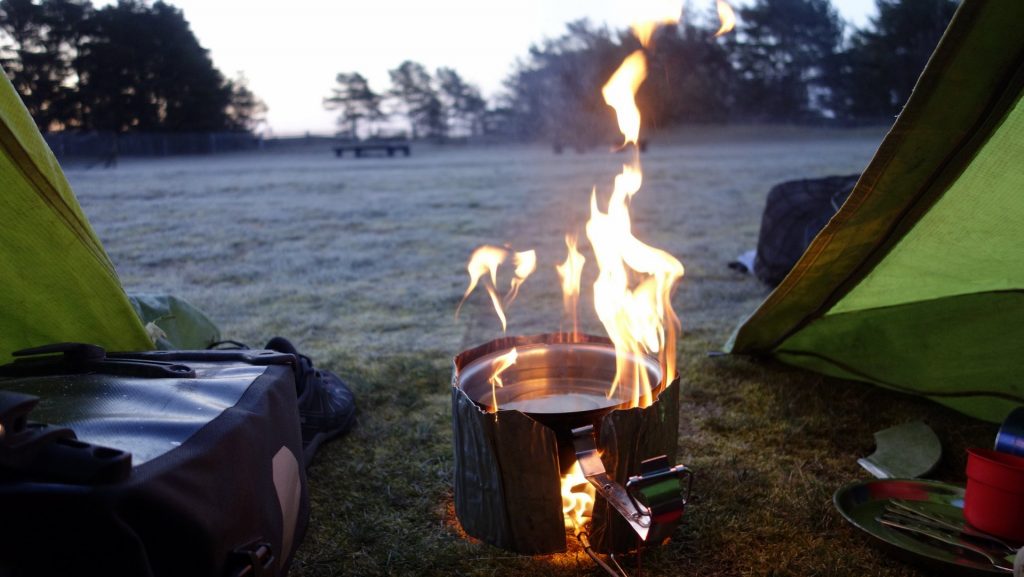 Cook outside the tent will avoid major frights. If you cook with gas you can cook very carefully and always with the open tent, but if you cook with petrol is better to be as far as possible from any flammable object.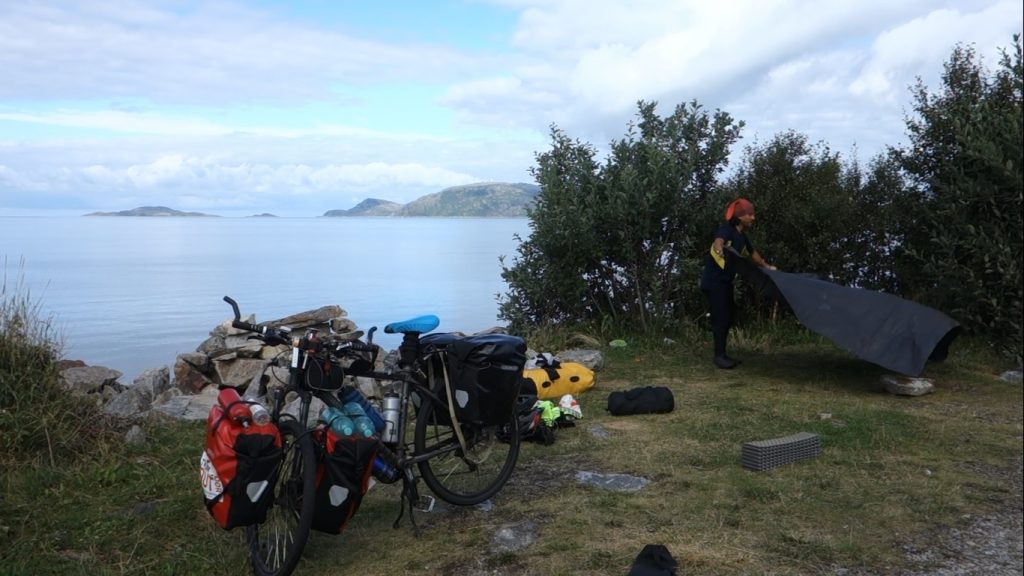 Place a plastic under the tent will prevent punctures and humidities. Since using this technique the floor of my tent is perfectly intact, although I've come to really abrasive to camp on a places such as rocks and brambles.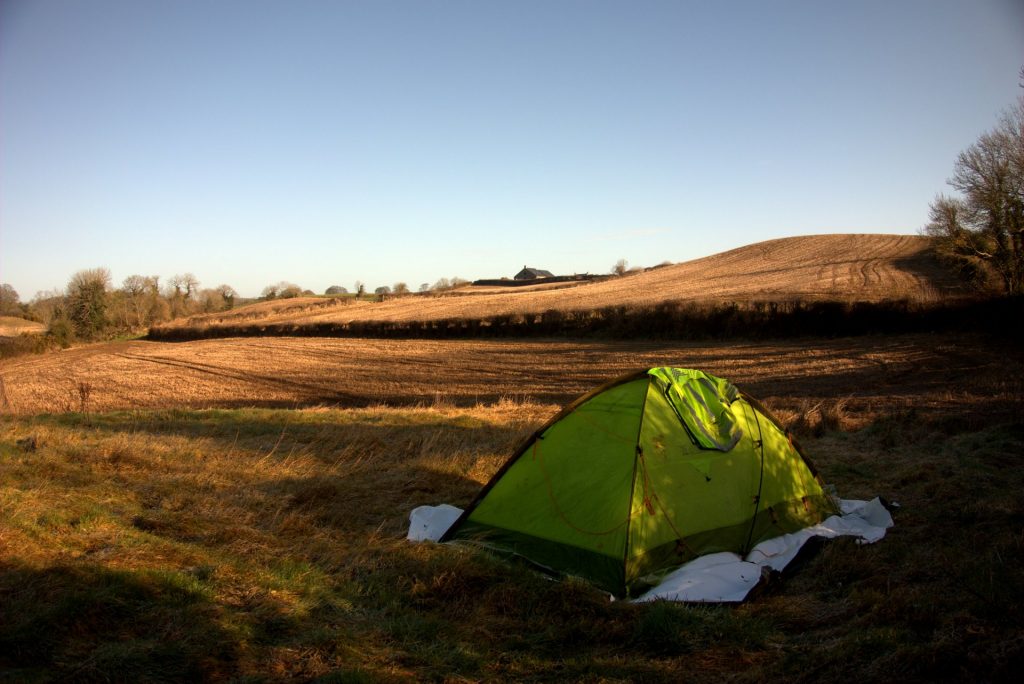 We hide the plastic under the tent to avoid leaving any part of the plastic on the outside. Pictured above is an example of how NOT to do.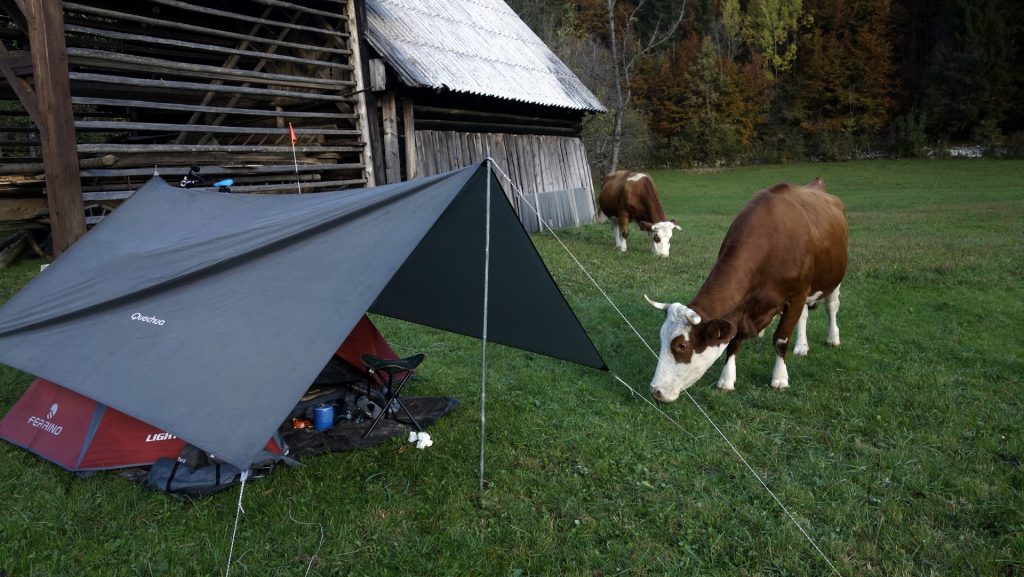 An awning for a roof can be a great idea. On rainy days will allow you to cook and be dry in your mobile home.
I hope it have been helpful to your future adventures. Remember that the most important thing is to enjoy the journey and travel safe.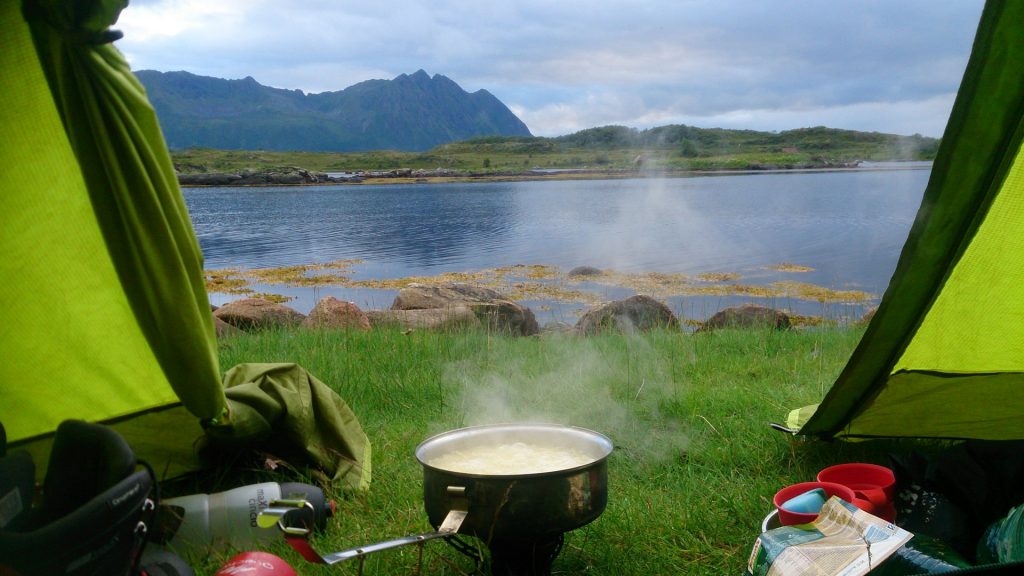 Thank you all for following me.
Remember that blogs survive thanks to the interaction of its readers. Share and comment I'm reading you!