I return to the tracks after a long winter break. My stay in the Norwegian capital has left a mark on me, I have experiences there like to write a book, but this is a blog about my travels not a reality TV show, so I will not write about my days in Oslo. I will just say THANK YOU to all those who have been with me these last months, my friends, ex-co-workers and flatmates (I have remarked to my flatmates not to tell me that I do not talk about them like on the radio). It is always difficult to leave the people you appreciate behind. I think that as time goes by it costs more, but I will also say that my idea of continuing has never been more stubborn. In Oslo I have found people who after seven months have come to appreciate, and even love on my way, are and will be friends for all life. But the long stays have not been good of me in recent times, so many days stopped lost my track and myself. It's time to meet me again.
Bye Noruega!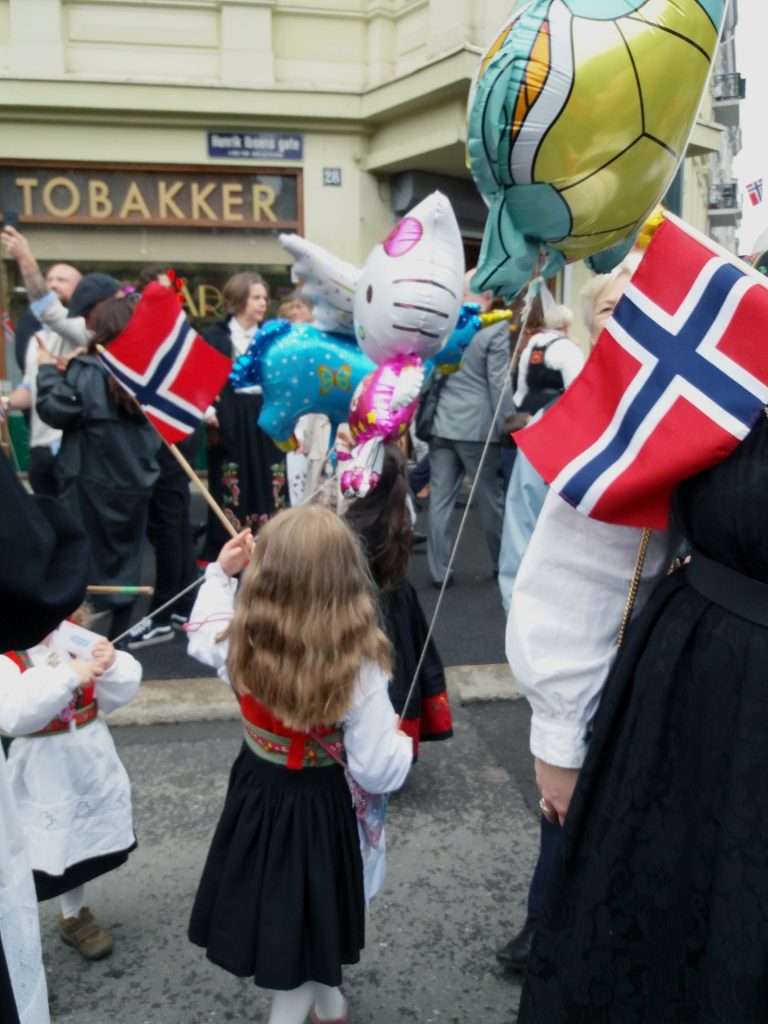 I left Oslo after having lived a week full of emotions, among them we were fortunate to be able to live the national day of Norway. The streets around the royal palace were filled with people eager to celebrate the day that the constitution was signed, on May 17th of 1814dc. Norwegians dressed in their finest traditional costumes, resident foreigners and tourists gathered in a spectacle of trumpets and drums in parade. Thousands of flags crossed the streets of the capital, an appointment that was not lost or the royal family.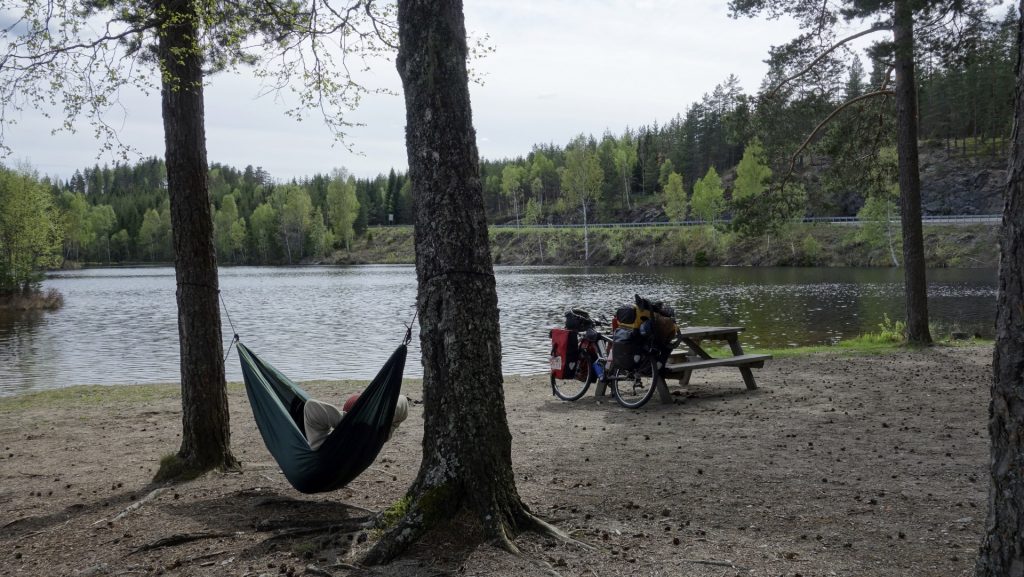 The truth is that this time there are no photos with Negrita leaving Oslo. Posture was eaten by the coward's grief. But as he went on I began to see a small shadow of what I had become. The months without cycling and good food made me suffer the most beautiful thing. The saddle, after being stolen in the city, was not as comfortable as I would have liked it to be, and I noticed it every time I climbed into Negrita. The body resisted being what it was, luckily Norway offered me her last gifts and I, knowing my misfortunes I knew how to take advantage of it.
Sweden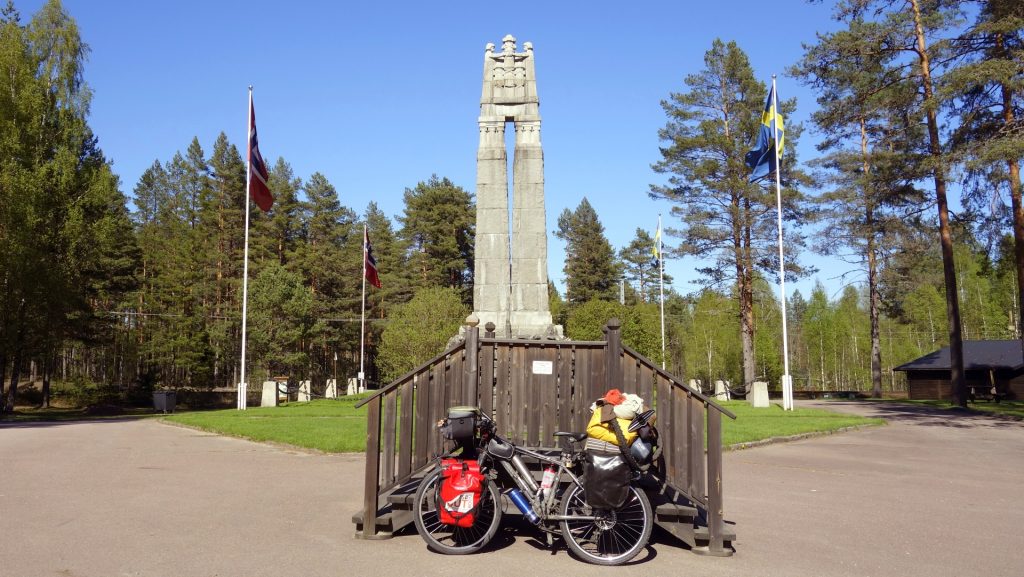 The borders in Europe are easy to cross. I crossed the border on the third day of the trip and the first thing I did was to introduce myself to a XXL sports shop to buy me a gel saddlebag. I no longer knew how to put the body every time I sat on the bike, I think this seat will be used in future Chinese torture films, and I mention movies because I do not want it to anyone.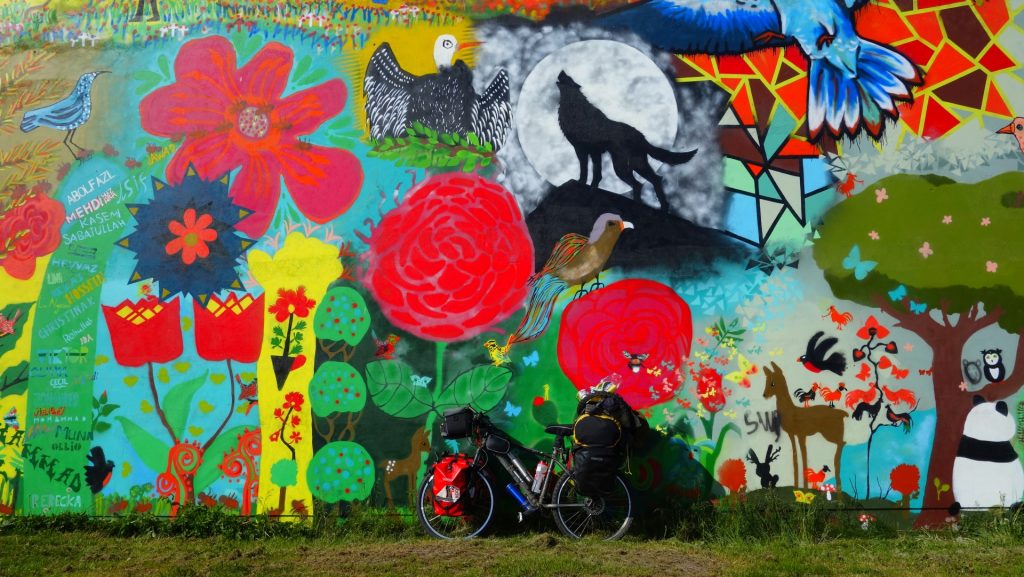 Even so, with suffering included, the cities that I was meeting along the way filled me with enthusiasm. Until I learned the trick to find the right secondary roads, Sweden took me down the path of bitterness, but once I had passed the learning, I was only enjoying. Arvika surprised me with this mural. I sincerely believe that cities are getting better with this type of street art.
In Kristinehamn I dazzle with this monumental sculpture of Pablo Picasso. This statue of 15 meters high is part of the series of paintings and sculptures "Les dames de Mougins", subjects he made with his wife Jacueline. It must be said that Picasso never floored Kristinehamn, this work of art designed him in France and was built by the Norwegian artist Carl Nesjar, a friend of the Picasso.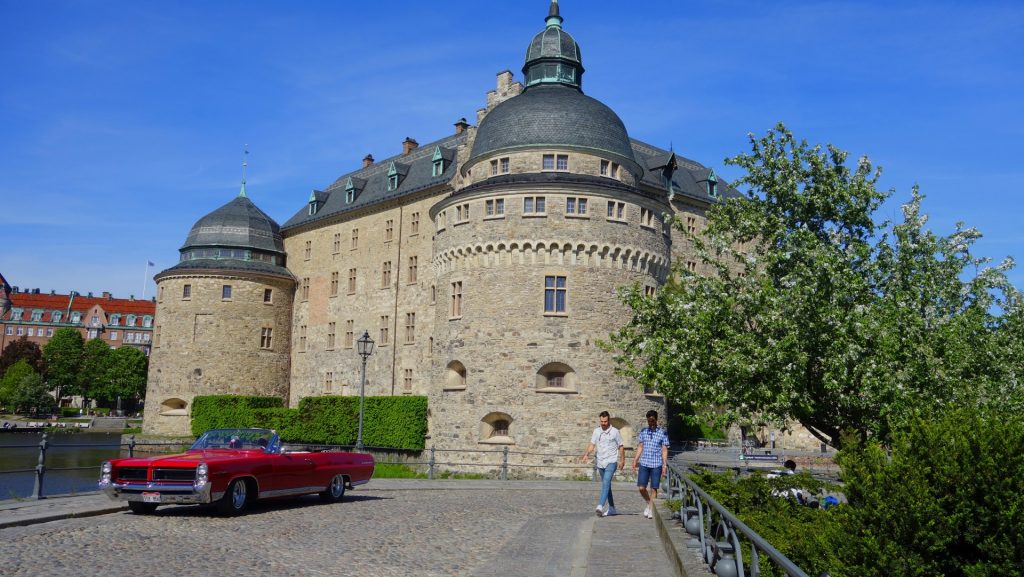 This photo represents what caught my attention at the moment in Sweden. A huge stone castle, of which I like, in the middle of an islet and the hobby of the Swedes for American cars. In addition Örebro is a city that is brotherhood with the Catalan city of Terrasa, to about forty minutes of house of my parents. So far and so close to home…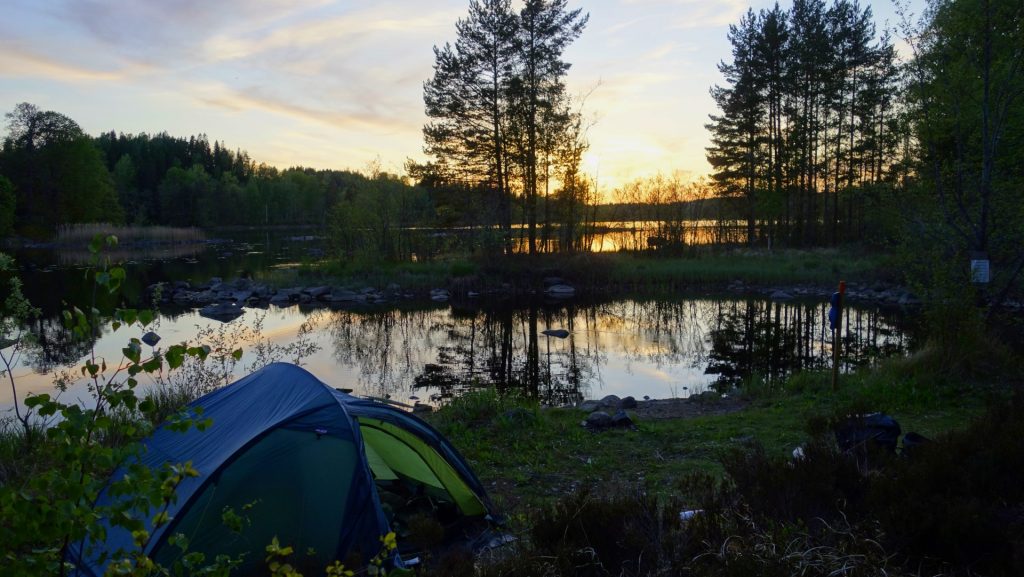 Of course Sweden has given me places as magical as this one in Svartå. I have spent most of the nights at the lakeside, where I have had to contrive to look like a civilized person the next day. The easy way to shower is a quick dip in the frozen waters of these majestic puddles of fresh water. Sometimes in peculiar companies, like my friends the otters or the birds, that soon they keep you company as they use their singing to make of alarm clock.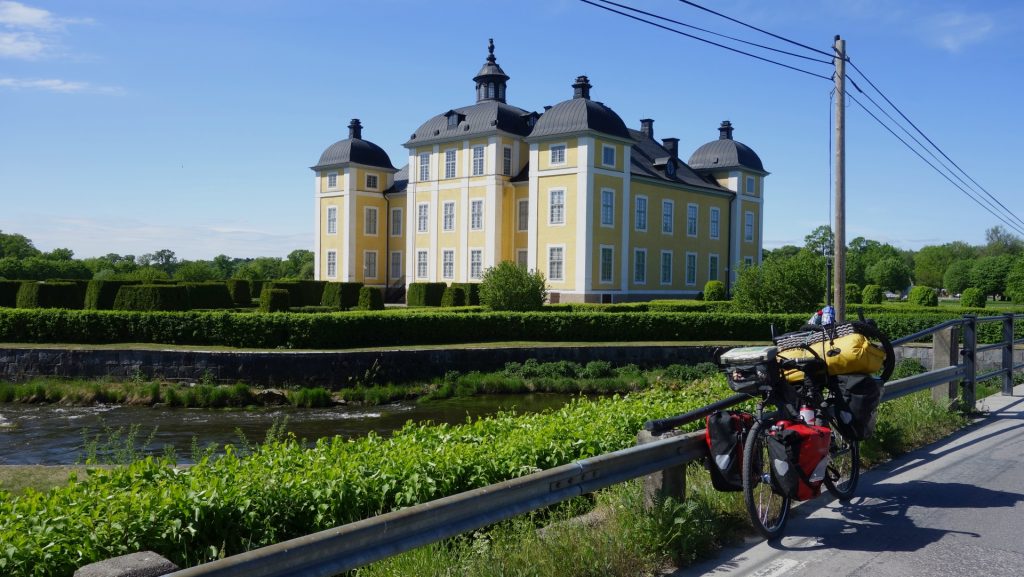 And do not say that the royal families do not welcome the stranger, I camped on the grounds of this royal palace in Strömsholm. Probably the kings had the same knowledge of me as I did of them when camping, but the discovery of the palace the next morning was funny. Apparently it was built in the 17th century to raise horses. At the end of the nineteenth century it was used to train the cavalry of the army and is now Sweden's most important sporting horse.
Arriving in the city of Västerås I found a strong smell of burnt rubber. For safety reasons they had cut the streets that took me to the urban center and as I am so curious I went to see what had happened. An oil factory burned the night before, information picked up from the place by lookouts like me. Let us hope that they have not been hurt and that all that is serious is only material.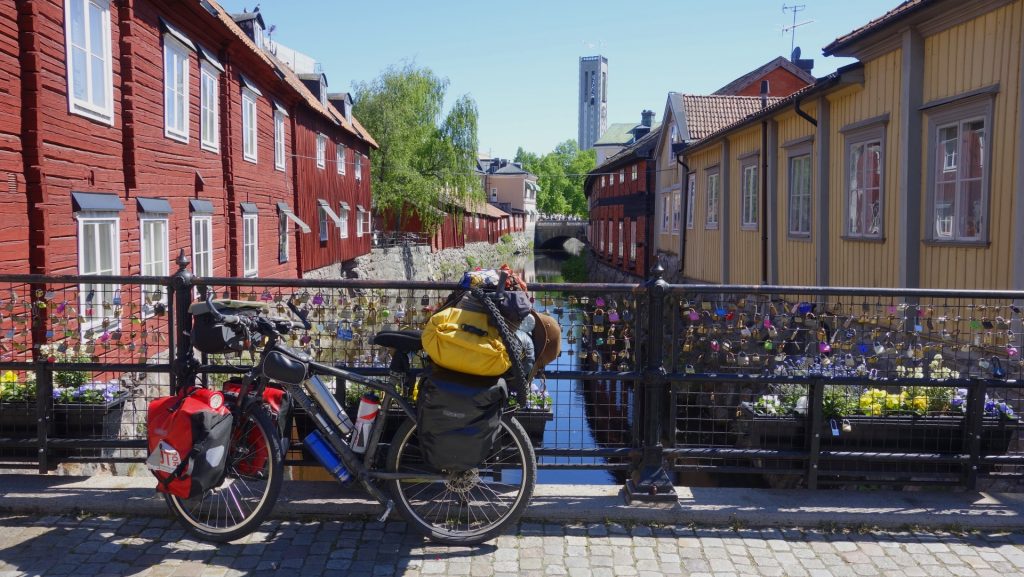 Once in the center I found this bridge of love. It seems to be that all cities have their lovers bridges. Next time, I'll put a locker with the engraving of "Manel y Negrita" 🙂
One note about Västerås is that they have the most enthusiastic tourist office girl I have ever met. She took out all the maps she had in his possession, made me the route to go faster to Stockholm and to make sure she called her sister who is a cyclist and had done that route days before. If you read this I want to thank you for your dedication.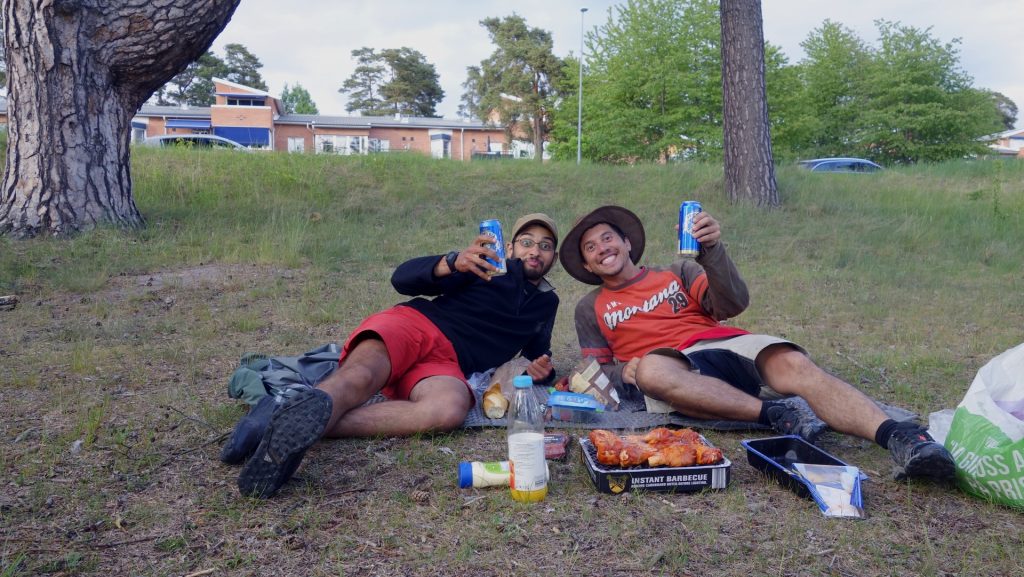 And of course, good weather encourages every cyclist. This first week we have been above the twenty degrees constantly with peaks of up to 29ºC in some places of the Swedish territory. But good luck not only brought good weather, I also introduce myself to a new friend coming from Paris. I wish Adel the best on your trip up north and you find many more moments to barbecue. Bon courage!
Stockholm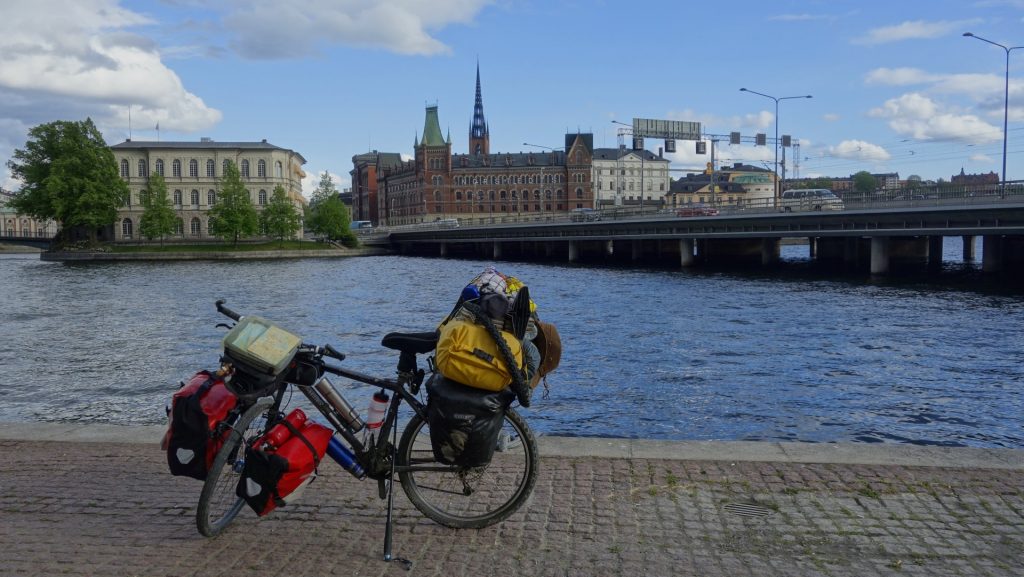 My arrival in the Swedish capital was a bit chaotic, the cycling signs do not indicate the center until it is five kilometers away, and of course I do not know the names of the neighborhoods! In addition I arrived in the big city with no place to stay, for once neither warmshowers nor couchsurfing have served me to be in Stockholm. So I was forced to stay at a campsite, I paying to put my tent in Sweden… who would tell me it? But the important thing is that I washed the clothes, that after ten days of routes they smelled like dead rat.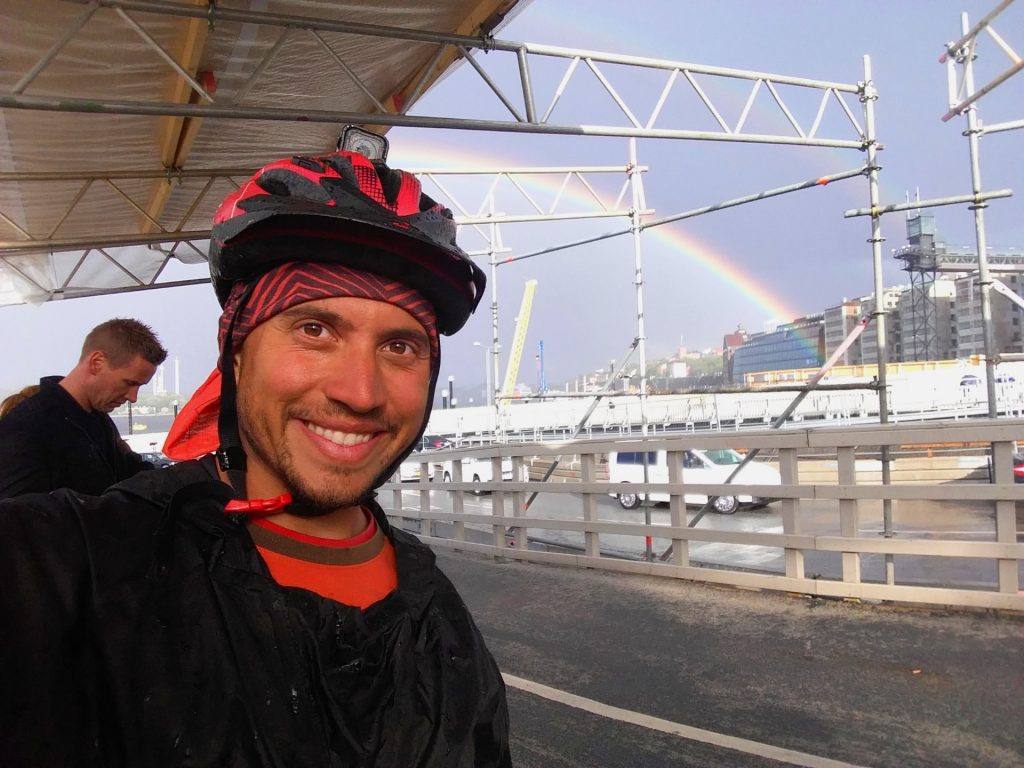 But before setting the time decided to take a shower on the road. In a matter of seconds a hurricane wind brought us a torrential rain that seemed the end of days. Cyclists and pedestrians protect us as we could between balconies, portals and bridges. Only the bravest were still in the rain, as you can see, I dedicated myself to becoming selfish xD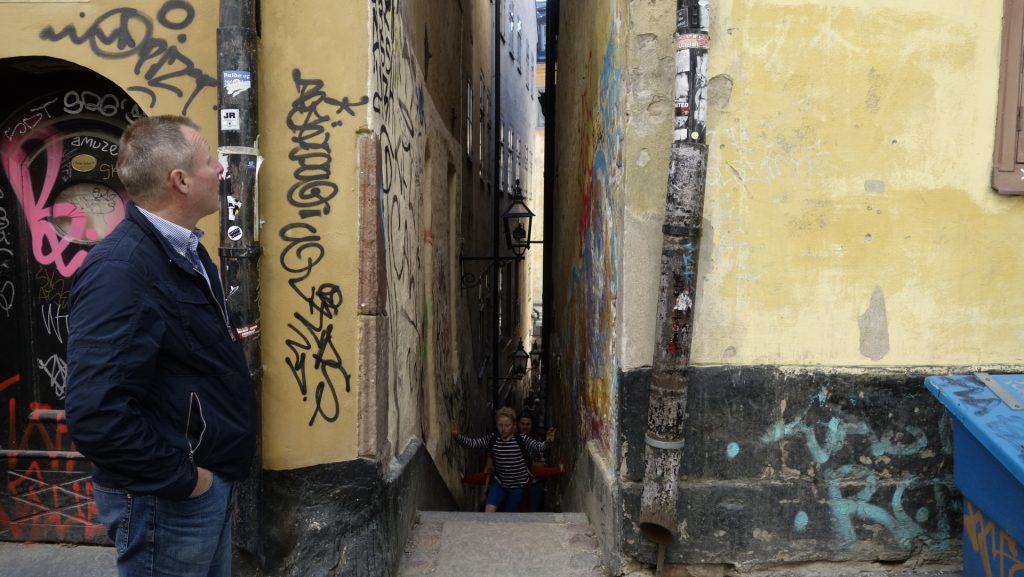 Perhaps the most striking thing about Stockholm is the number of narrow streets that meander through the old town. A myriad of charming places that inspire the imagination.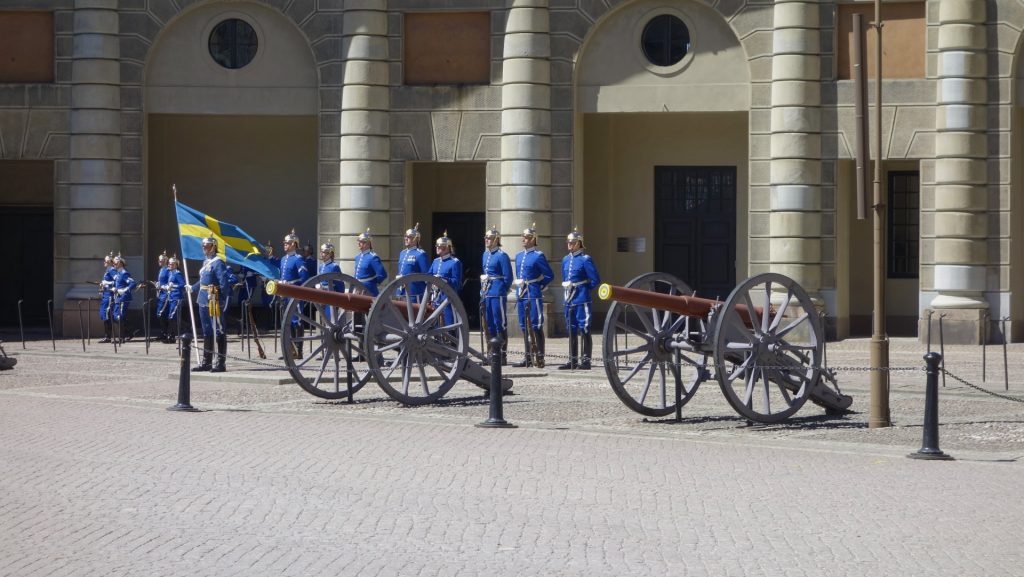 It also gave me time to see the change of guard in the royal palace. An orchestra band mounted on horseback encouraged all the audience there expectant. The soldiers walked in formation to the rhythm of the drums and the trumpets as we applauded each time they finished a scene.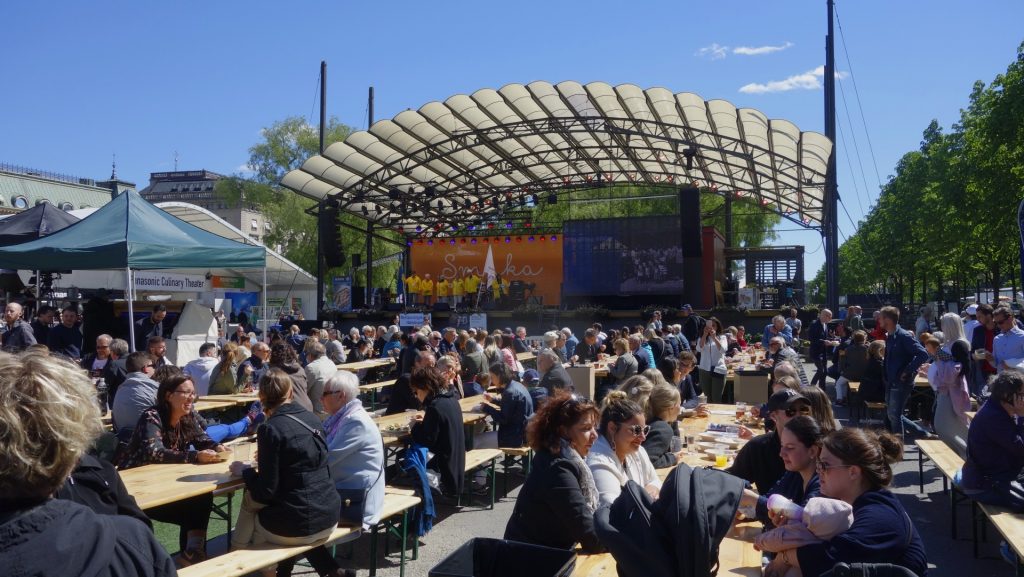 If I did not have enough with the wonders of the buildings and the bridges that united the islands of the great Swedish city I was able to enjoy the wonders of the gastronomic festival with windows of restaurants of many international places. A miracle and a torture for a glutton with an empty pocket like me, but I paid homage to a blåbär ice cream, which is blueberry in Swedish but it was better 😛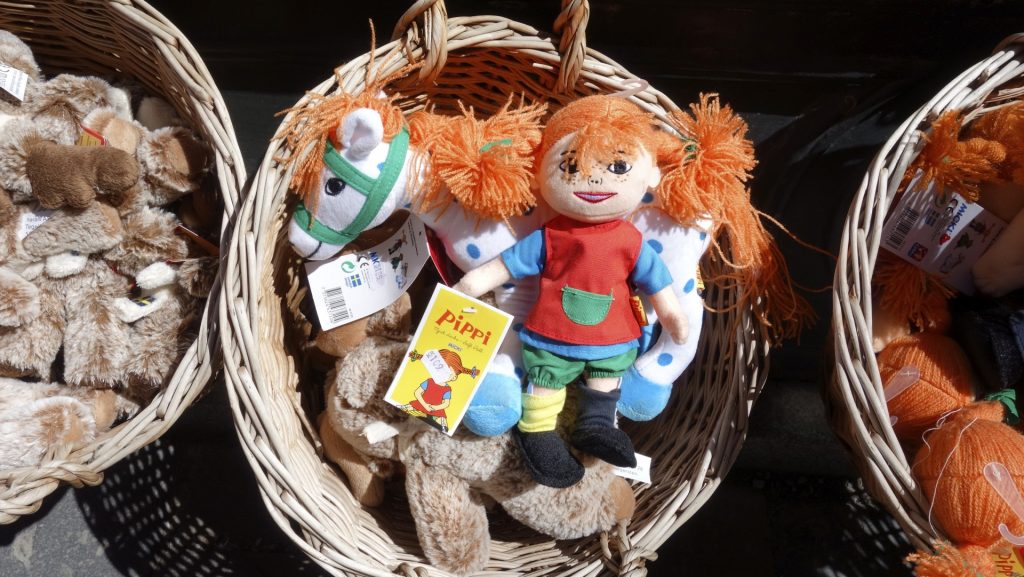 Who does not remember the little redheaded rebel with big braids? Sweden is its home country and if the world has forgotten who is considered one of the first feminist icons of television history, the Swedes continue to sell it as one of the great characters in Swedish history, along with Odin and Thor among other gods of Aesir. A girl capable of lifting a horse with the strength of one hand, a rebel in a time of goats. Here I leave my little tribute to Pippi Långstrump.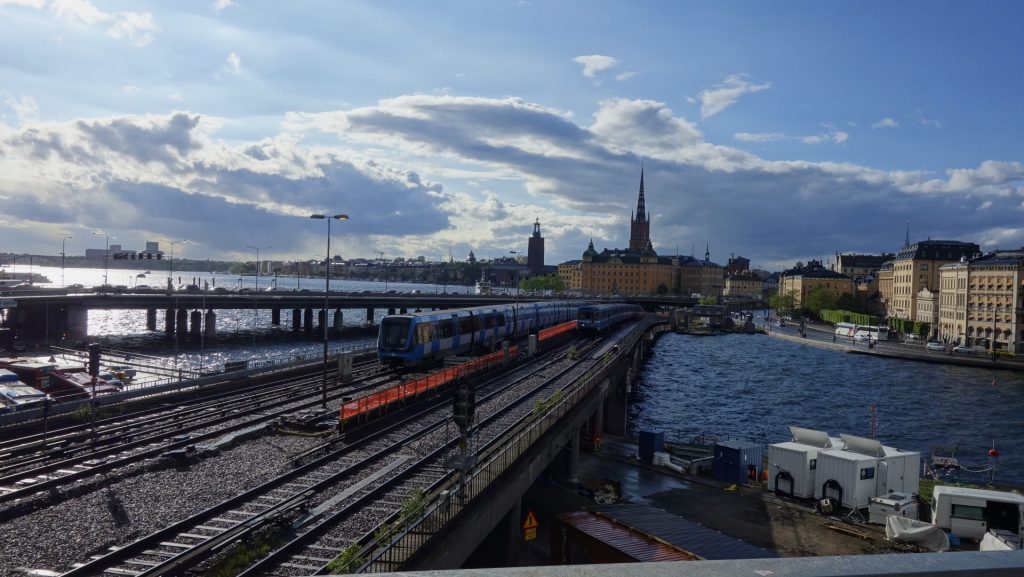 And this is all that he has given these first days of travel.
There are people who seek the truth inside and others who need to go outside to find themselves. In a world of great hopes, dreams within the reach of brave and broken hearts, courage and virtue are muted by the monotony of a sedentary life that chose us as guinea pigs for their conformist ends. It takes guts to get on the train with the destination that we choose and abandon ourselves to their fate. Only one life has given us, and I will not lose it waiting.
I want to thank all those who have been by my side these days, both traveling and previous. Especially a special mention to my friend Mustafa and his roommate Stig who welcomed me this previous week and I was able to see Oslo from another side. TUSEN TAKK!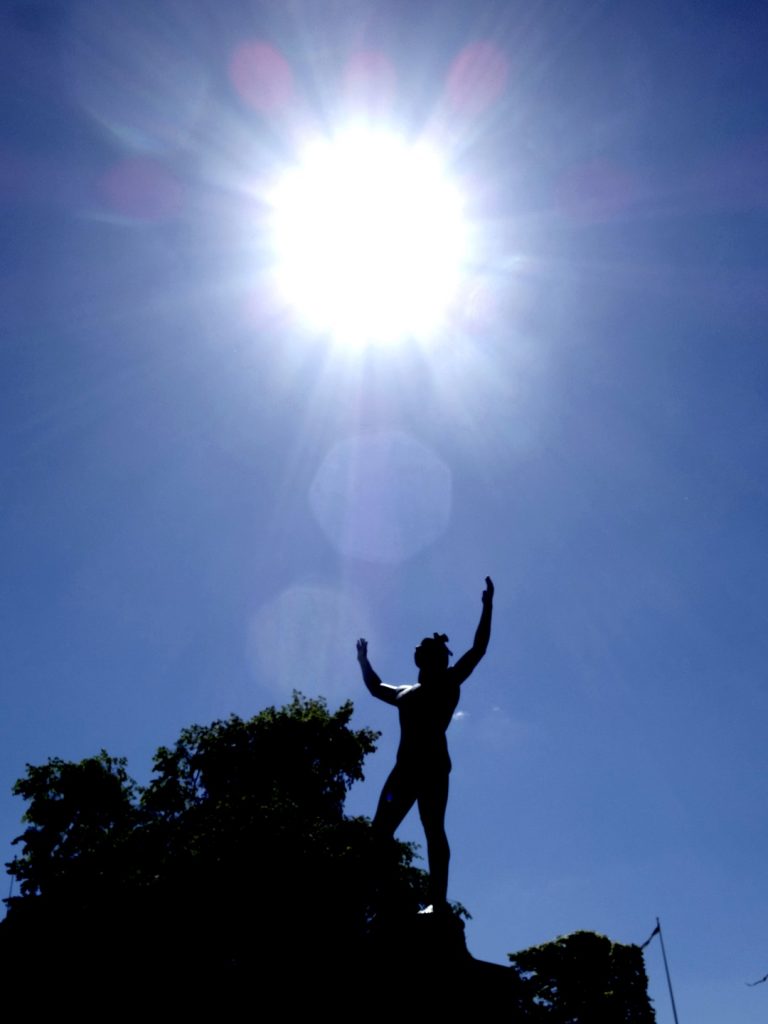 And since I do not like to end up so serious, now that I've found the way, let's all give energy to Goku to make his Genkidama Kame hame ha!
Until the next chapter of this crazy life. Happy week, weeks or what late to rewrite 🙂
A hug!