I know what you're all thinking, why wind and not ice? Is not that the missing element of the Icelandic flag? You are right, it is the white color of his brand new flag that I miss for writing, but despite having successfully overcome the Snæfellsjökull glacier, perfect excuse for the headline, it has not been the king of these days of route. I have struggled with the blizzard thousands of times, but it has been the first time i almost exhausted my existence, and is that with the wind we can not play. Next time I'm sailing!

Western Fjords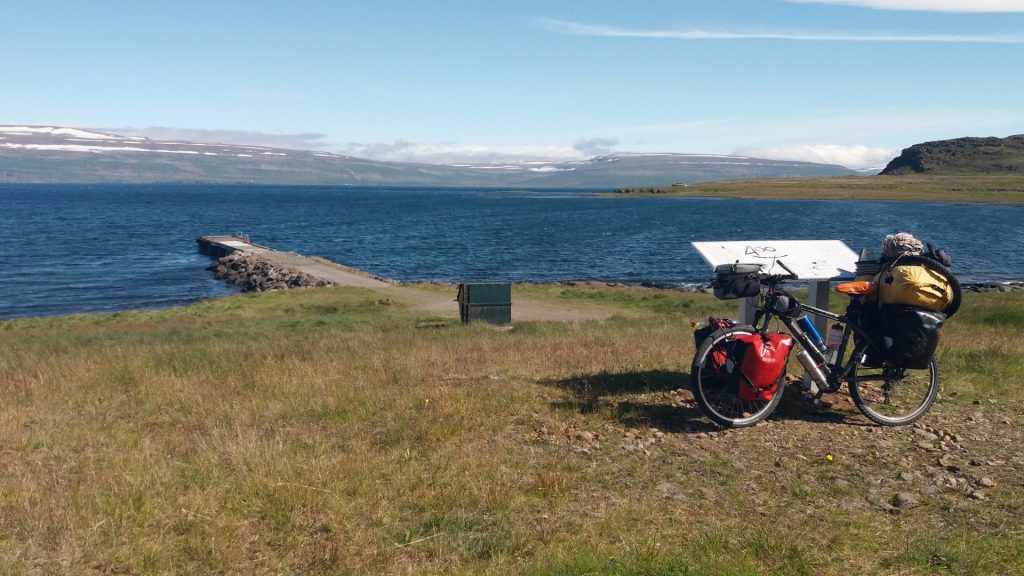 Here is a poster commemorating the 400th anniversary of the massacre of the Basques. This bloody and cruel story is composed of a lot of myths that make it, like all Nordic stories, difficult to differentiate between reality and fiction. In the seventeenth century, there was an agreement between Basques and Icelanders for the whaling business. In September 1615, after a hard Icelandic summer, the Basque whalers were ready to set sail, and then the catastrophe occurred, wrecking ships and surviving 80 of their crew. These were divided in two parts mainly, the men of the captains Pedro de Aguirre and Esteban de Tellaria managed to return home the following year, did not have the same luck the crew of the captain Martin de Villafranca that after dividing and going errand, the magistrate Ari Magnússon condemned them to death by criminals, allowing the Icelanders by an ancient law to kill as many as they could. In 2015, 400 years later, an academic congress was held with an official apology from Iceland and the law allowing the killing of Basques was repealed. A great detail!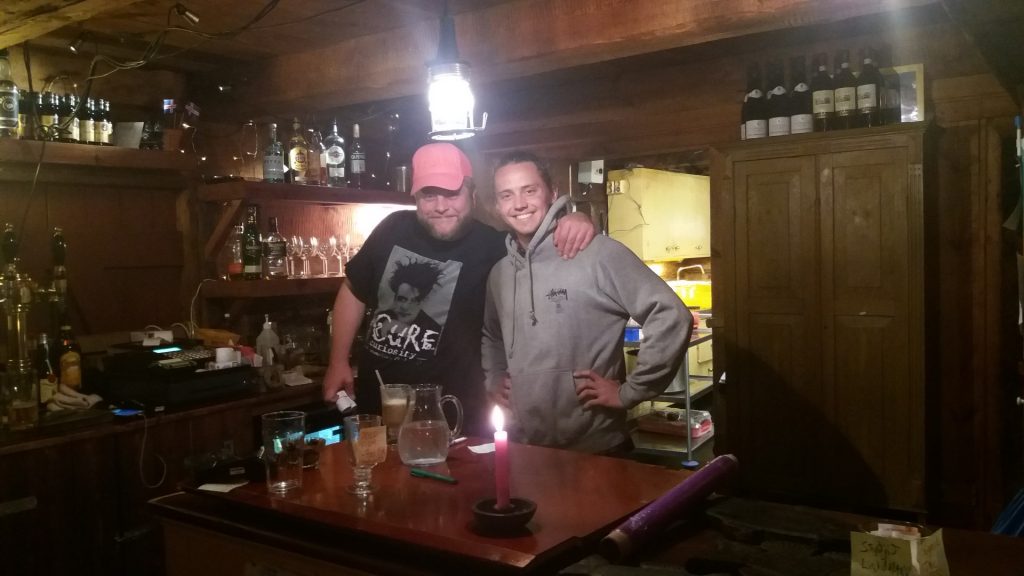 In Ísafjördur I met these good people from the restaurant Tjöruhúsið. I was invited to attend an Icelandic folk concert and A BEER! How easy it is to be my friend. 🙂 Takk fyrir!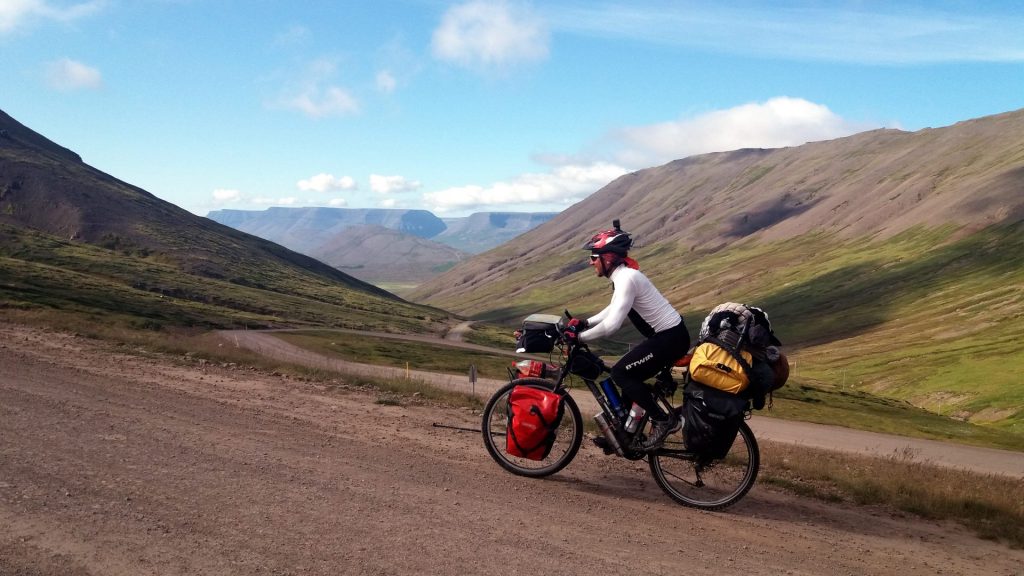 A German woman stopped in case I needed any help and I asked her if she wanted to take a picture of me. Made several and very good! In this one it is easy to imagine the difficulty of the mountain pass that are in the fjords of the west. True leg-breaker!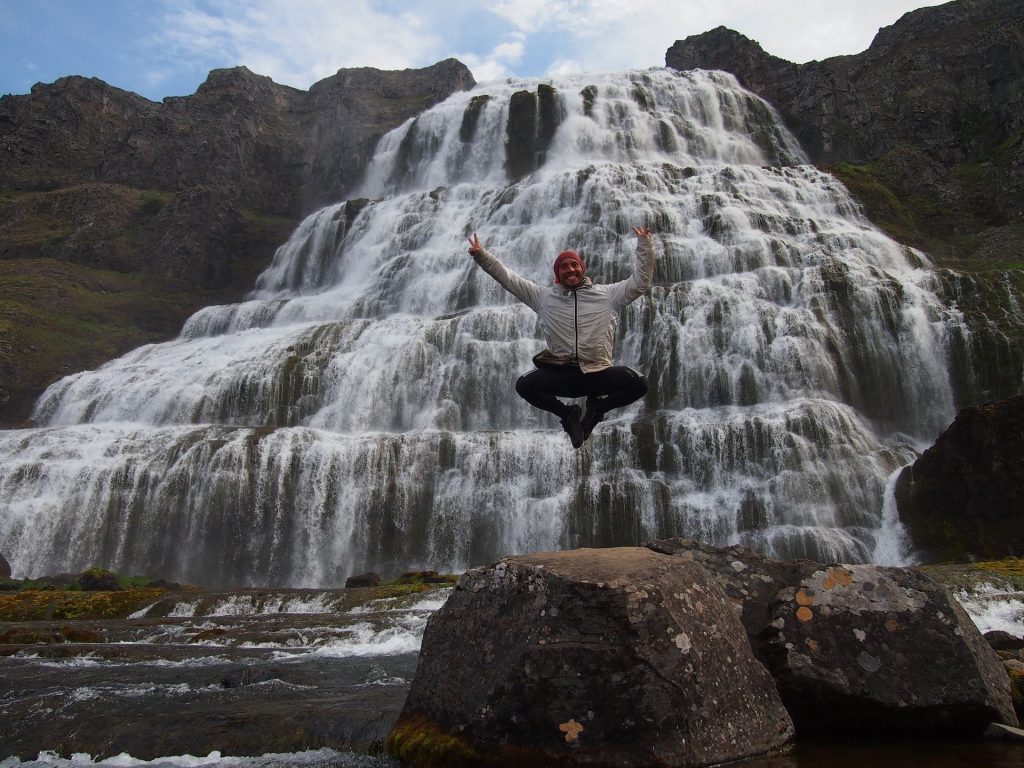 Although everything has its reward. In Dynjandi I met Michael again, a Swiss adventurer who travels in a backpack and met him in Ísafjördur. Thank you for the moments of laughter and for lending me your camera for a while to photograph this spectacular set of waterfalls!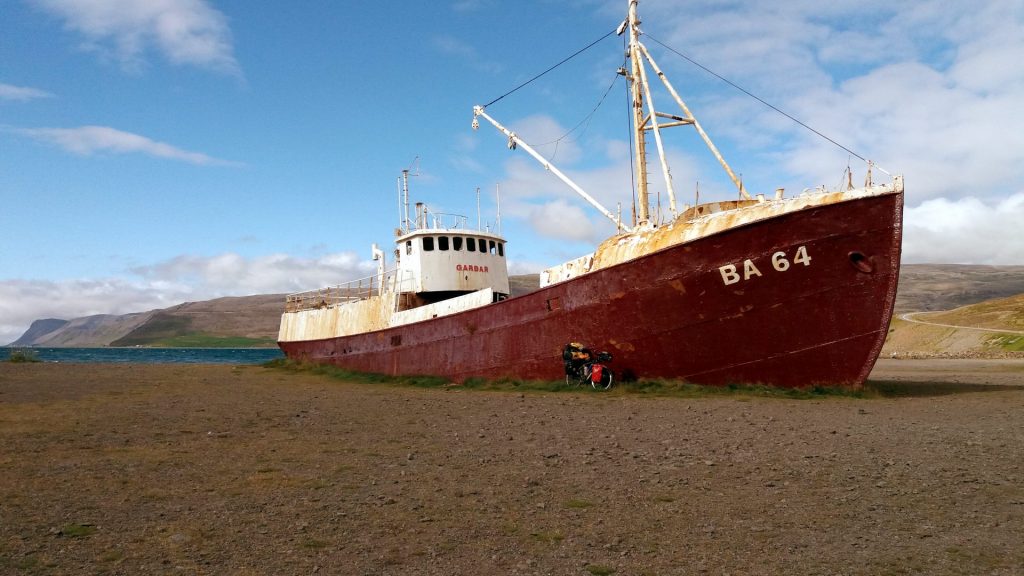 On the way to Látrabjarg I found this Norwegian ship stranded on the fjord. His body was damaged by the pass of time, smell of moisture and beams eaten by mold, the sensation of walking on a ghost ship, I could not avoid thinking that I was a pirate captain :O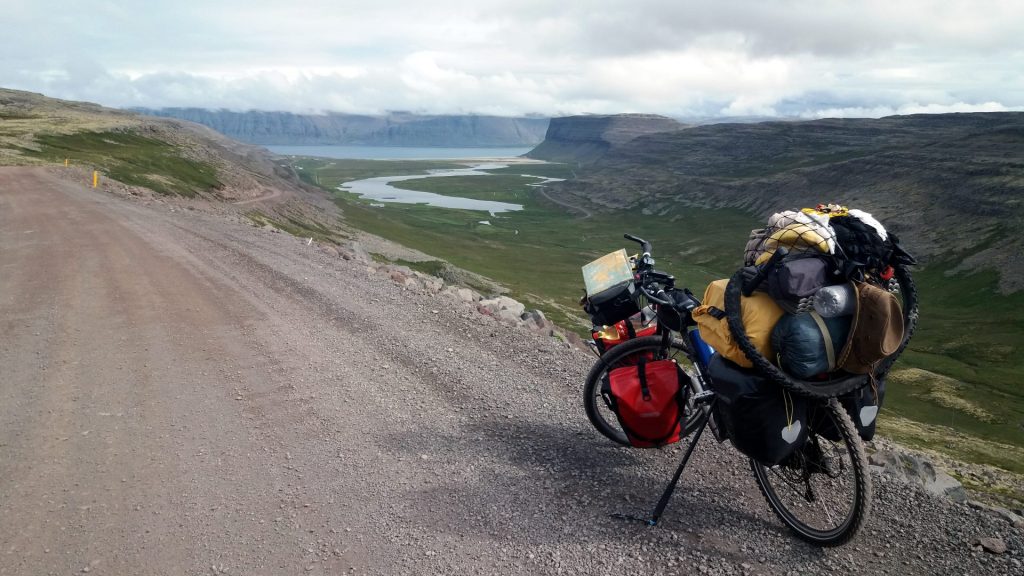 And of course, wanting to go to the westernmost part of the island has its effort, and its reward. The panoramas are really impressive. This side of the island reminds me of the north of Norway, pure, immense and magnificent.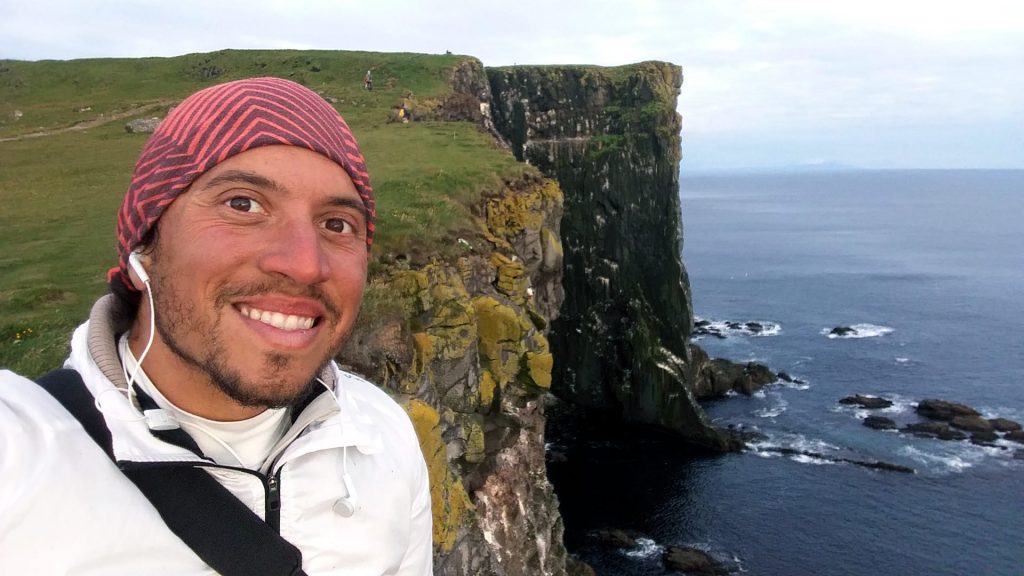 In Látrabjarg they have the highest cliffs of Iceland, 441 meters of vertical height. The ones I have on my back are smaller, do not reach 200 meters but they are beautiful. They say it is the westernmost point of Europe, but the remote islands of the Azores would have to be excluded to be true.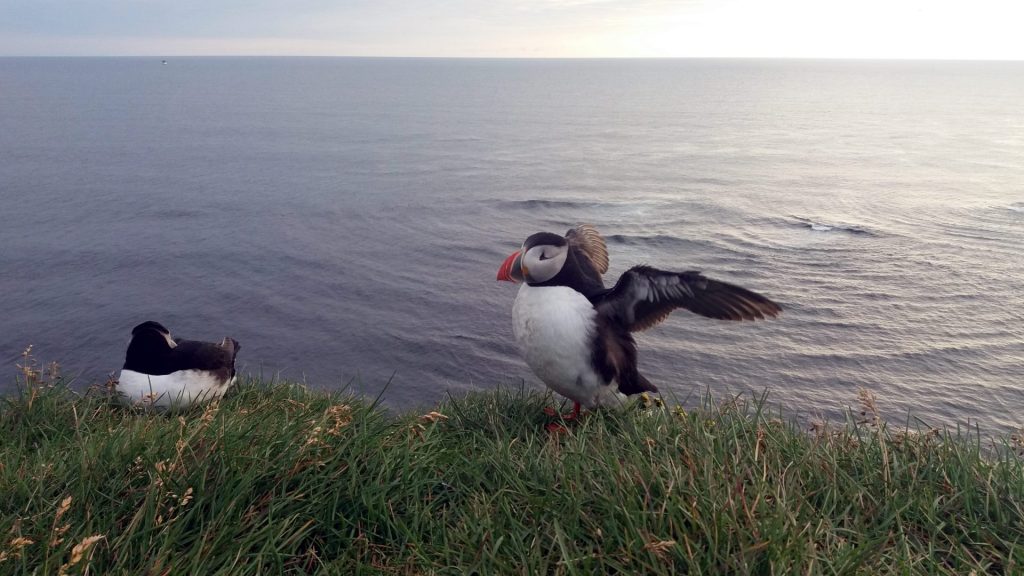 Now you ask, but did not the camera break? Yes, it broke, but the mobile has managed to supplant during this time my camera. You have to wait for the right moment to be an artist and the puffin posed you like Beyoncé 😉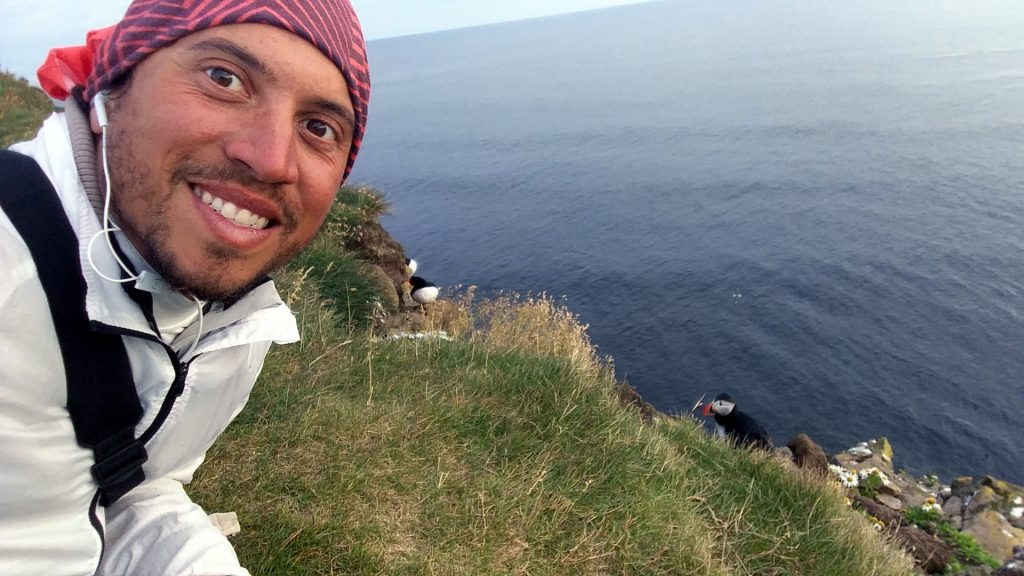 Although you do not have to be a genius with these animals. In life I haven't met with wild animals so peaceful and charming. They allow you to get closer to less than a meter, if you are not afraid of heights! Be careful with the cliffs, the puffins make their nests on the ledge of the cliff. Imagine walking a meter of earth full of hole… never approach the edge of the cliff!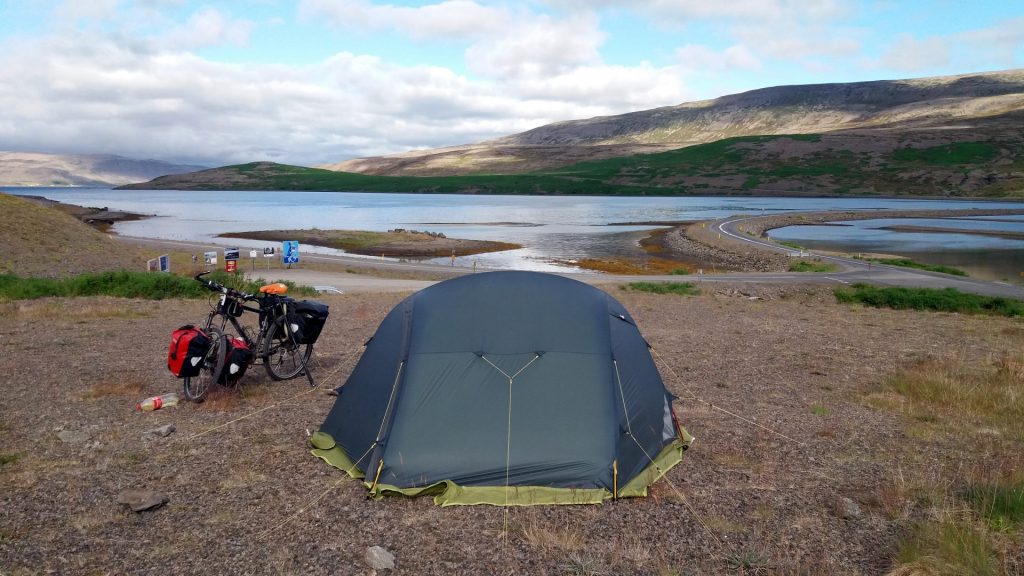 The grounds are sometimes difficult to camp, there is no protection for the wind as on the whole island, but they never disappoint their landscapes. I will not have facilities, like bathrooms or electricity, but in view there is nothing that surpasses it 🙂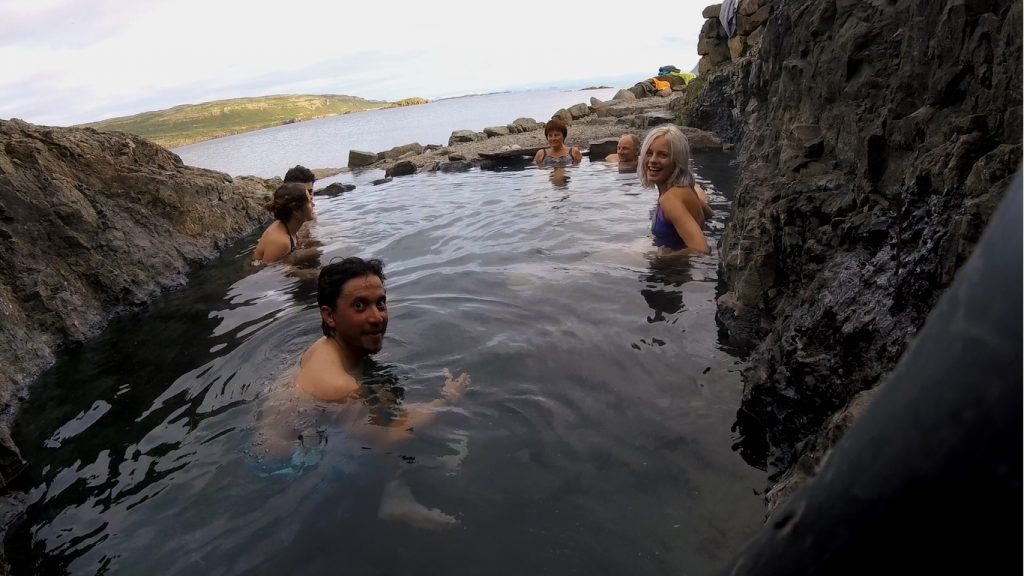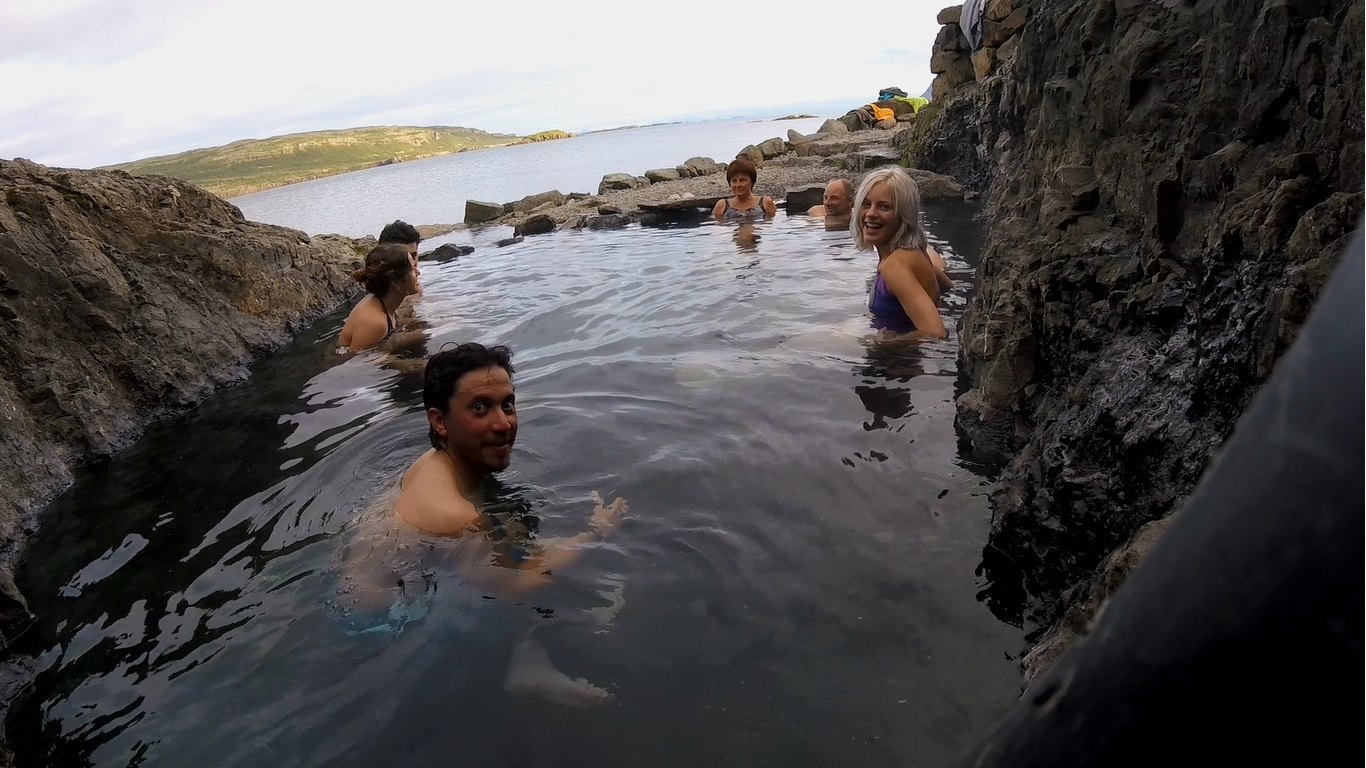 In the west, it is easier to find the famous hot springs. These small "natural" pools are a marvel of the combination between the human being and nature. Hot and free water, it seems that someone has heard my prayers! In the photo above we see the bathroom that is in Flókalundur, and you can bathe in the fjord… if you dare!
And as always something must happen, I had a flat tire. The perfect excuse to leave the road tire as spare and change it for my life-saving tire 🙂
Snæfellsnes peninsula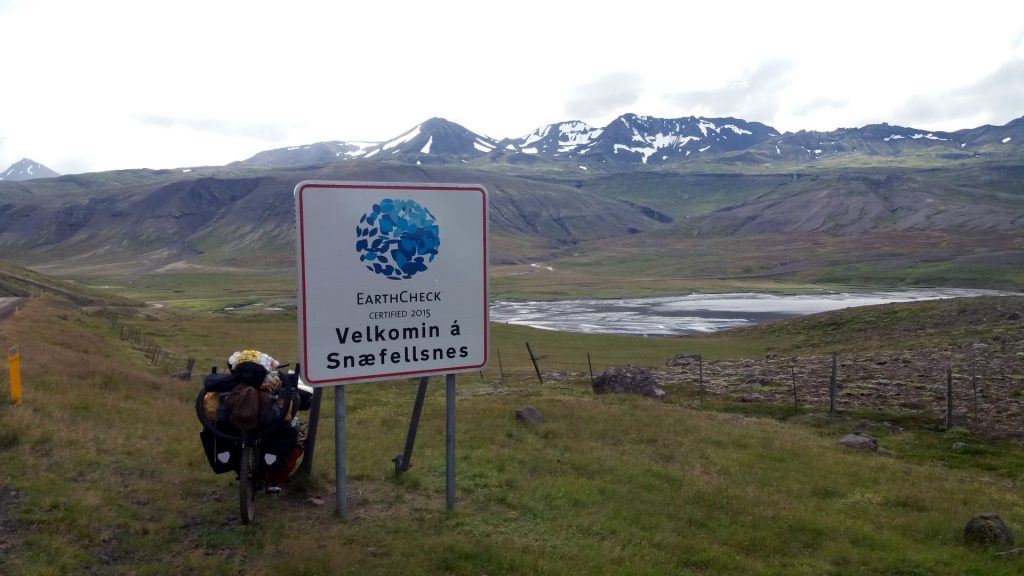 And here another important moment of my humble adventure. Since I first read Jules Verne's famous book, I have dreamed of coming here and traveling to the center of the earth. Of that has happened nothing more and nothing less than 18 years, it can be said that, if I have a dream, sooner or later I will go for it 🙂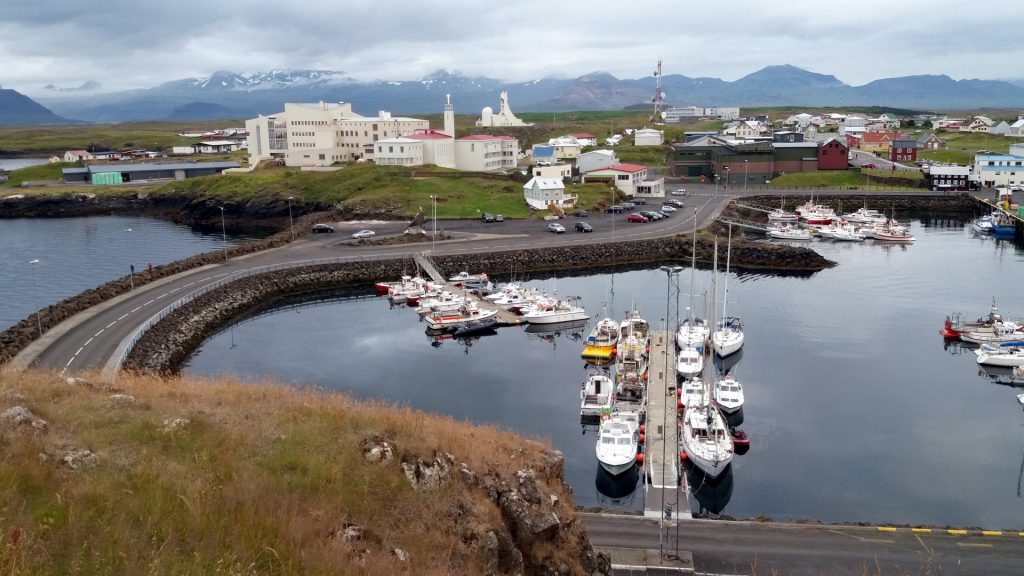 In Stykkishólmsbær I stopped for the first time after a whole month traveling without stopping. Thanks to Victor I met Noa, and thanks to her and her flatmate, Louise, I had the privilege of resting like a king, (and see the Games of Thrones :D) Thank you girls for such a special day!
Snæfellsjökull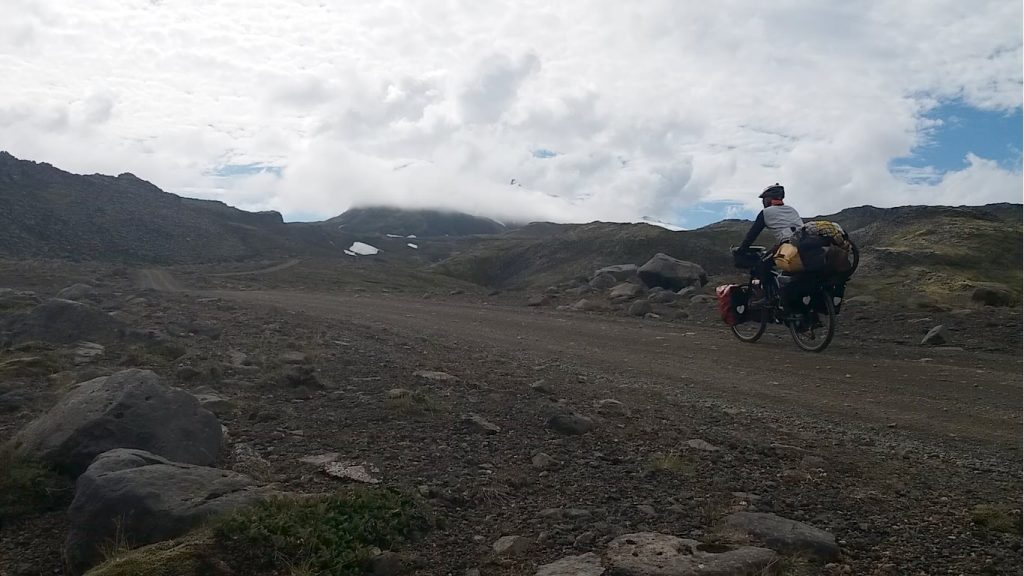 But I rested only to face the most terrible volcano of Jules Verne. Been the hardest port of my life, who was going to tell me it? It does not appear, not by meters of height, nor by the distances, nor by the percentages of step, but for the first time I had to get off luggage if I wanted to ascend… everything to not arrive!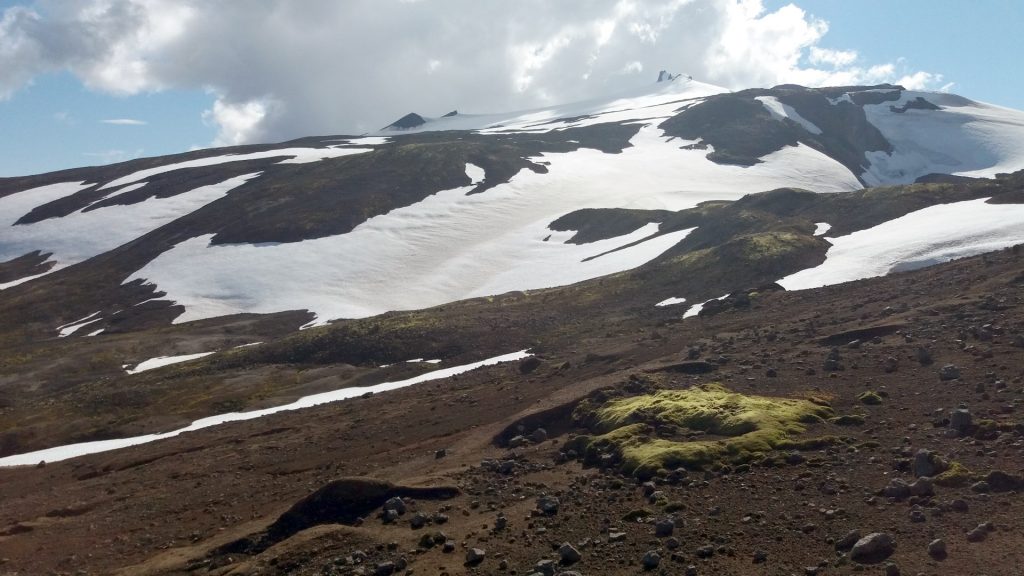 I left Negrita a couple of miles from the glacier. I went hiking there. Three hours wandering around the craters and volcanic formations where the entrance to the center of the earth is supposed to be. But to find it, it should have arrived in the June ends, and I arrived in mid-August. Too late to find the entrance! Of course, I finished reading the book for the second time, on the slopes of this volcano of my dreams 🙂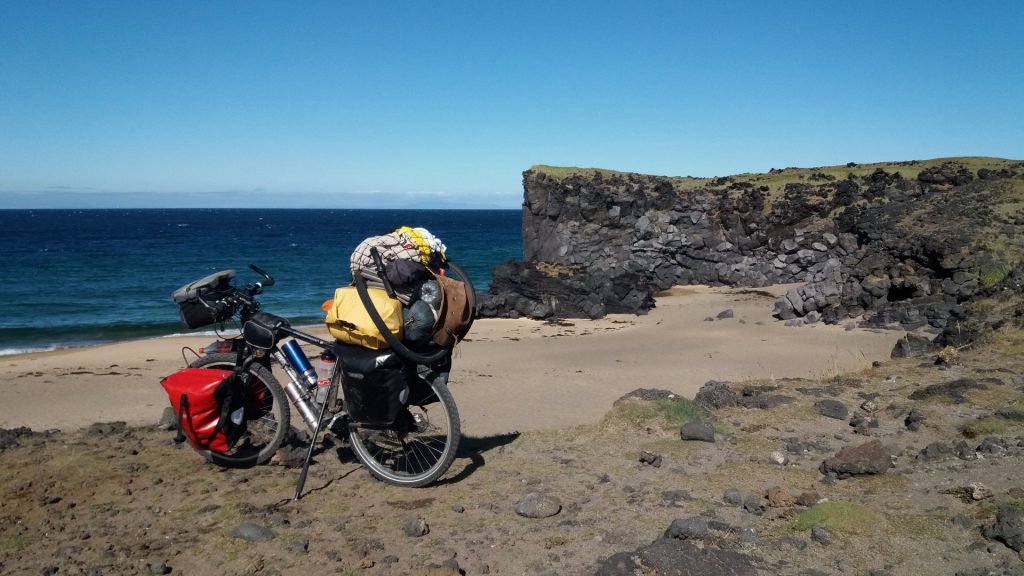 The next day I discovered why it is called "Jökull", it is the Icelandic word to drizzle. Volcanoes with glaciers generate great changes of currents of air, an odyssey for someone who is pushed like a kite by the power of the wind. I fell once in Arnarstapi, with no consequences for both. But I was able to enjoy landscapes like Skarðsvík beach, and meet Susane and Vidir. Thank you for your help!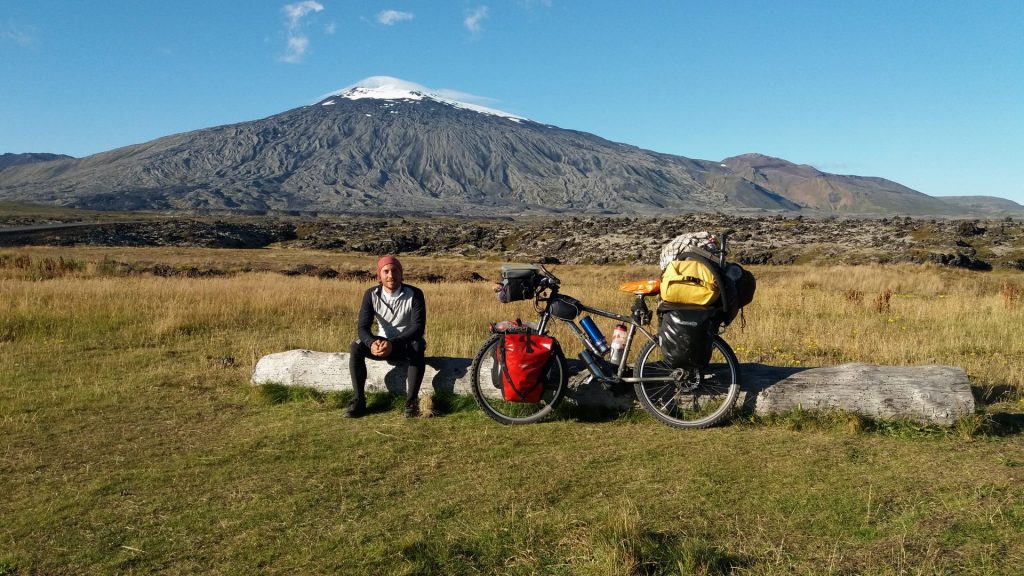 By the way, the best views of the Snæfellsjökull are in the south of the mountain. By the general road, or in this case, from the lighthouse of Londrangar. It's nice, right?
Reykjavik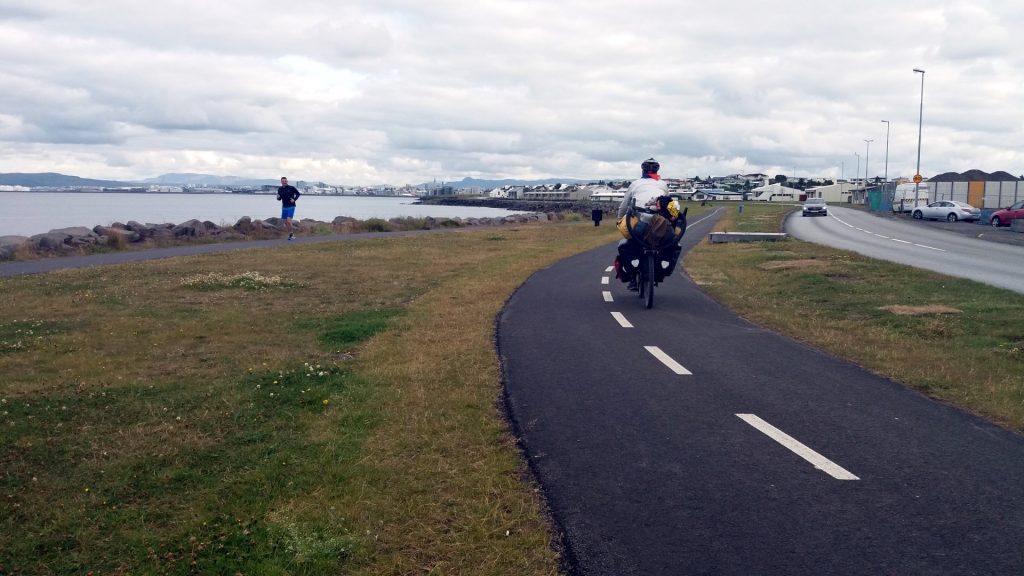 My stay in the Icelandic capital will be brief but super intense. Thanks to Eva I have been able to meet Edda, who has welcomed me into her home as we welcomes an old friend of whole life. This year I'm in luck and I have had the honor of meeting friends of my friends, wonderful people that I will never forget (or hopefully, because my memory sometimes torments me) but the log journals will not fail. Millions of thanks once more, to those who welcome me and those who help me to be welcomed 🙂
Epilogue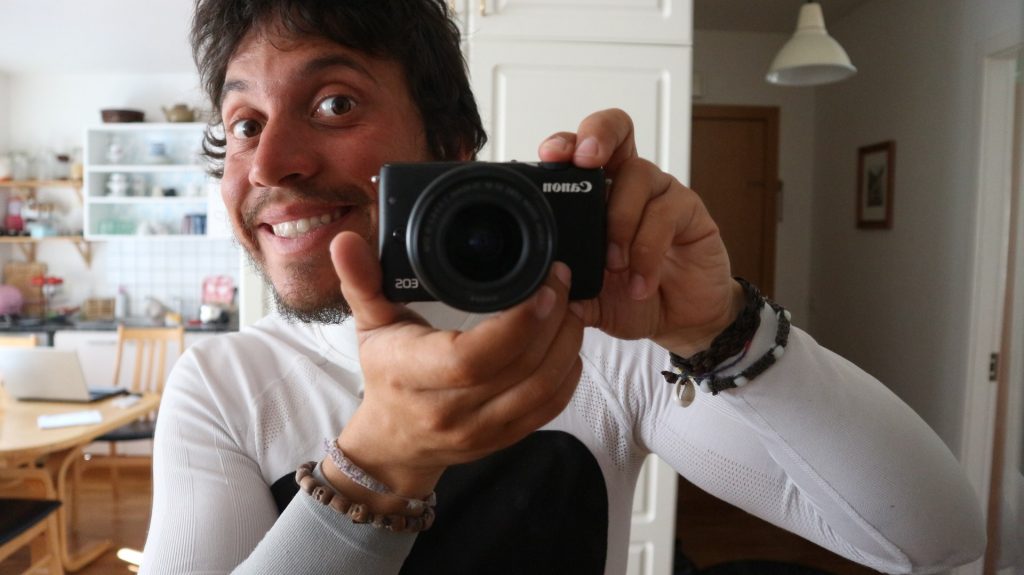 Mission accomplished! I struggled to find something "economic and quality" I hope to have achieved. Thanks to all of you who helped me in acquiring a new camera. Now we have a Canon EOS M10 that I hope to achieve good results in the not too distant future. For those who have helped financially, wait for me to settle down and give me time for your postcards. You'll have gifts!
Annex
Really it can not call it like that, because what I'm going to write has nothing to do with the trip, although it made me run for a while. I want to give my most heartfelt condolences to the families affected by the last terrorist attack in the cities of Barcelona, Cambrils and Alcanar. It is horrible what is happening in the world, sometimes it is hard to believe that these things happen, but it happen. They are still wars, promoted to enrich a few at the expense of suffering and pain of the innocent. Because it is always the same story, doesn't matter if this attack is in Barcelona, Paris, Baghdad, Damascus or Raqqa, or race, culture, ethnicity and religion, always die the same people. Hopefully justice will be done, and those who kill or made the order to kill been imprisoned for life. Absolutely condemn terrorist, come from side it come. A strong hug for all affected families, humanity is on the side of yours. #stopterrorism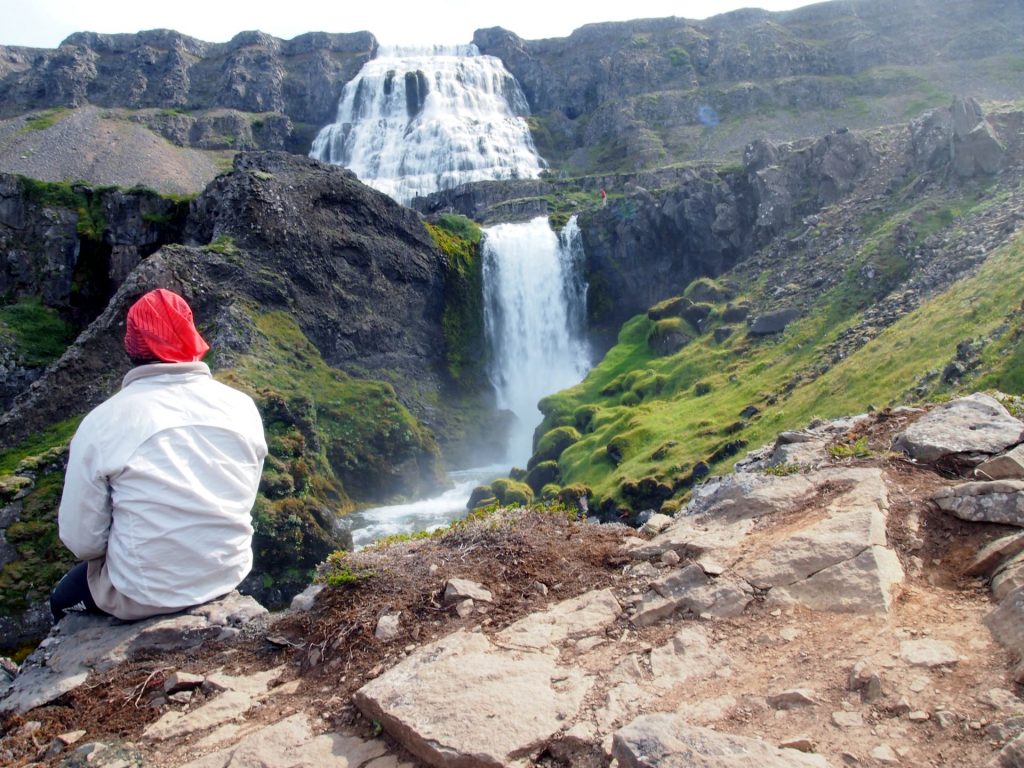 Thank you all for reading me one more time. A hug!