My main idea in Iceland was to write one or two posts at most, but due to the magnitude of events, script requirements and the amazing landscape of this island, I have been changed my opinion. There may be more parts than I could ever have imagined, but in nine hundred kilometers I have done I got anecdotes to write a book. I always thought that the Camino de Santiago was my most intense trip, but once again I was mistaken. Welcome to the first part of an unforgettable story.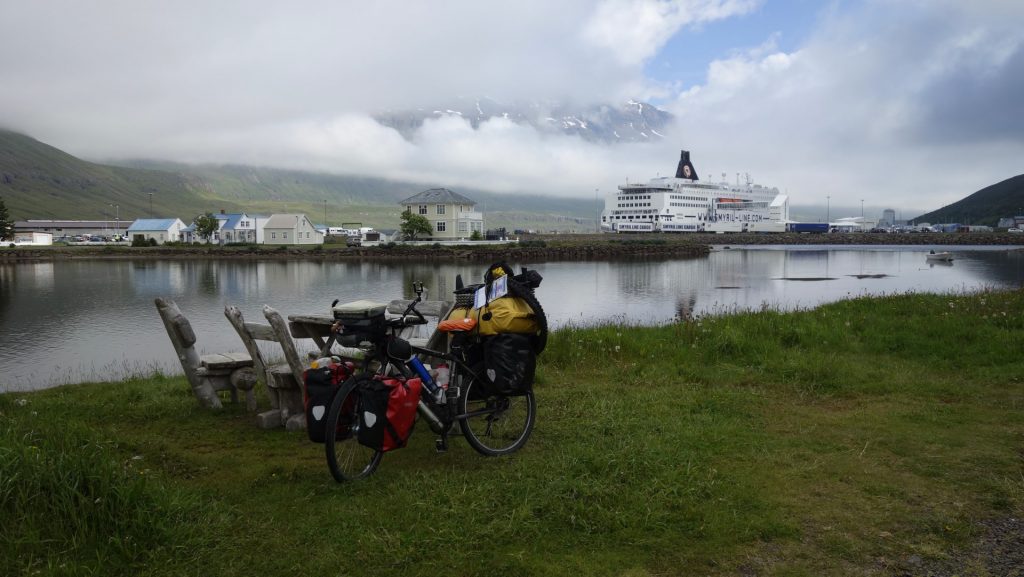 Between clouds
That's how I felt when I got to Seydisfjordur. This small town is anchored in a beautiful fjord, or would have been beautiful if the clouds had allowed me to see the mountains completely. But sometimes it is better this way, that the flows yearning of the most widespread desire of the human being, the curiosity.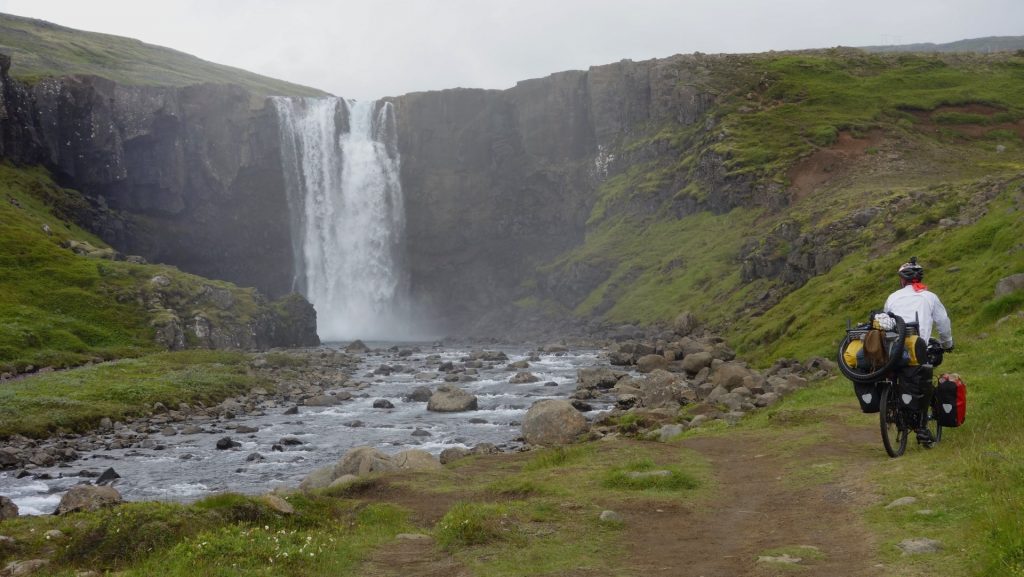 The mountains looked at me menacingly as I ascended its first meters by hard ascents of the first level. I have overcome many mountains in these last 18,500 kilometers that I have been traveling, but never a country has received me so harshly. Luckily, I was falling in love with the landscape by gigantic pedals, so it was like when I reached my first waterfall I knew it, I will not be the same again, today my heart has split again to add a new name to list of loves, Iceland.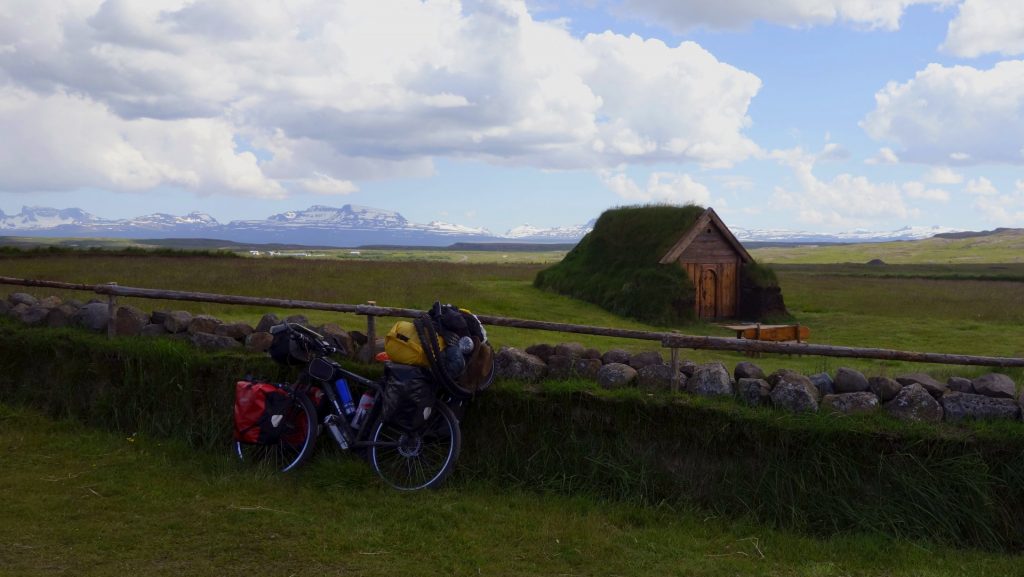 My plan change before arriving at the island, I will not do the famous ring (general road nº1), I will dedicate to make fjords until I get tired. So on arriving at Egilsstardir I only made five kilometers and took my first gravel road. I've only had a whole day of sunshine, and it was my second day. But I enjoyed it like I had never enjoyed the sun, vitamin D come to me! Thus I arrived at this small reconstruction of an X century church.
Only one day gave me truce the island, the next came the true temperament of the climate. Rain, wind fog and off course, the land put on its side. Hellisheiði is in my opinion a worthy port of the Vuelta. If you pay attention, you will see that their numbers are very similar to those of the Tourmalet, but with an incentive, it is gravel road.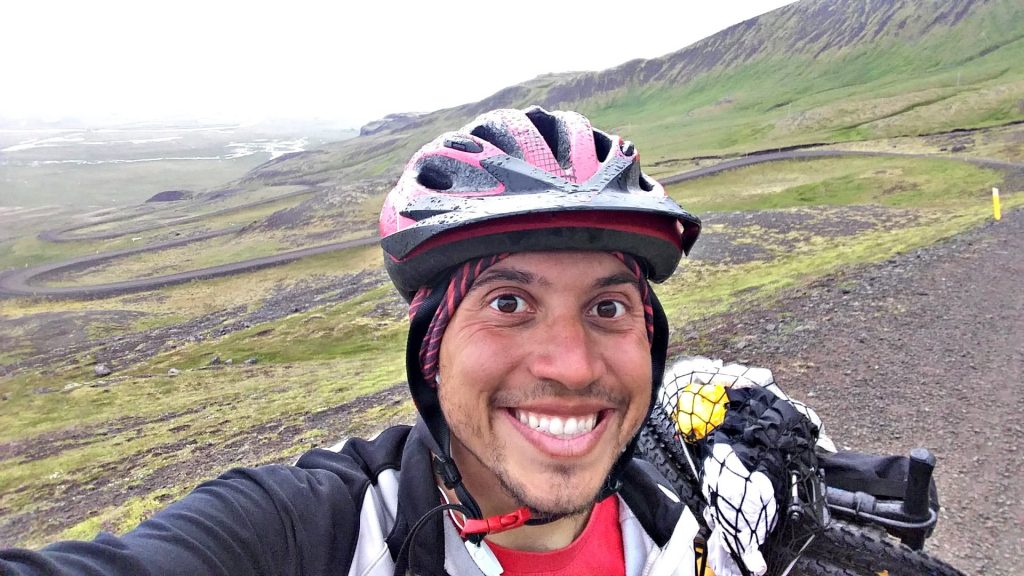 As you can see in my face, there are people who are born to enjoy suffering. I am well aware that at home watching Games of thrones, a blanket and some popcorn would be very happy and I would tire less, but I was born masochistic.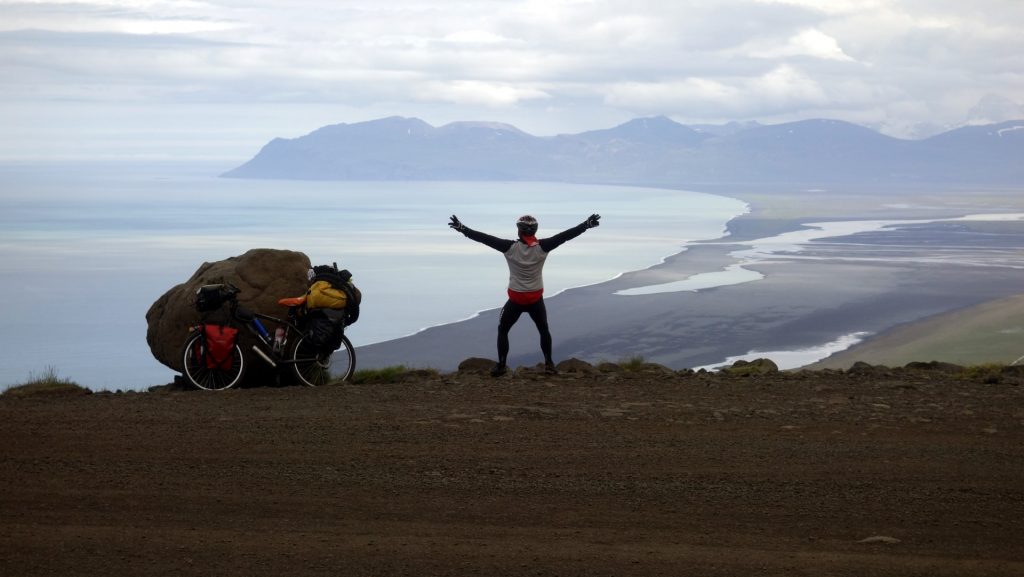 I am also aware that aesthetically I am not fashionable, indeed, it would seem that I have been expelled from a circus, but it does not matter. I am the happiest person in the world every time I get to the top. I will not be Superman, but I'm SuperManel and sometimes I get to touch the sky with my hand up.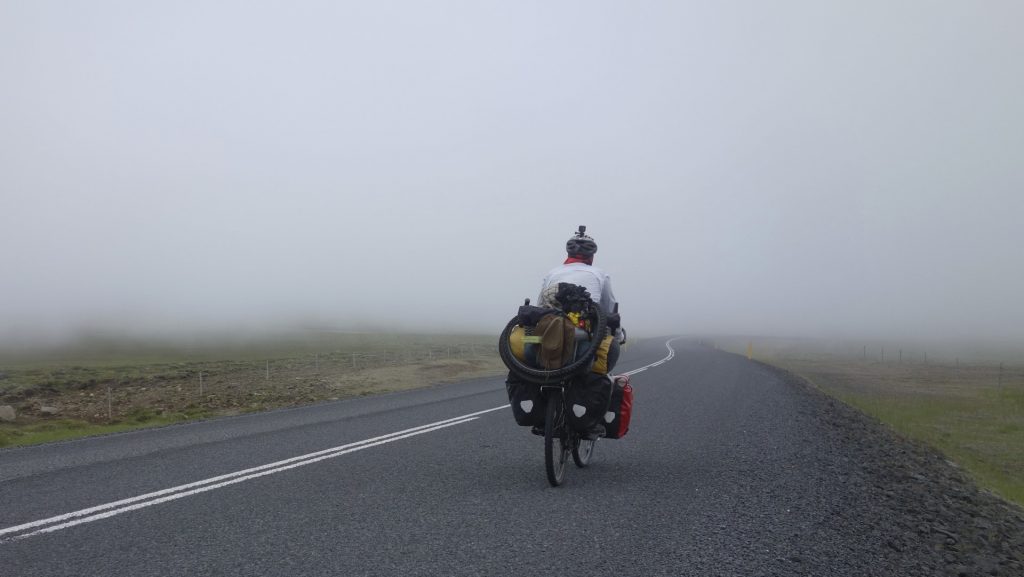 But my enthusiasm goes to the level of time. So fast I am in the sky as in a sea of clouds and icy cold, and very often go the two states holding hands. I honestly did not expect such an intense cold, I traveled in the north pole in the middle of February and I think, except for when I'm in the tent, I had not spent so much cold on board of Negrita. It is complicated to choose the equipment correctly, if I put on the thick jacket I'm sweeting and pass the wind so I freeze, if I just put the windbreaker, I'm sweeting and how it is thin I also freeze, if I wear both things I'm dying of heat and I drown in my own sweats, so I'm forced to stop, take off my clothes and immediately you know what happens to me, ice cream!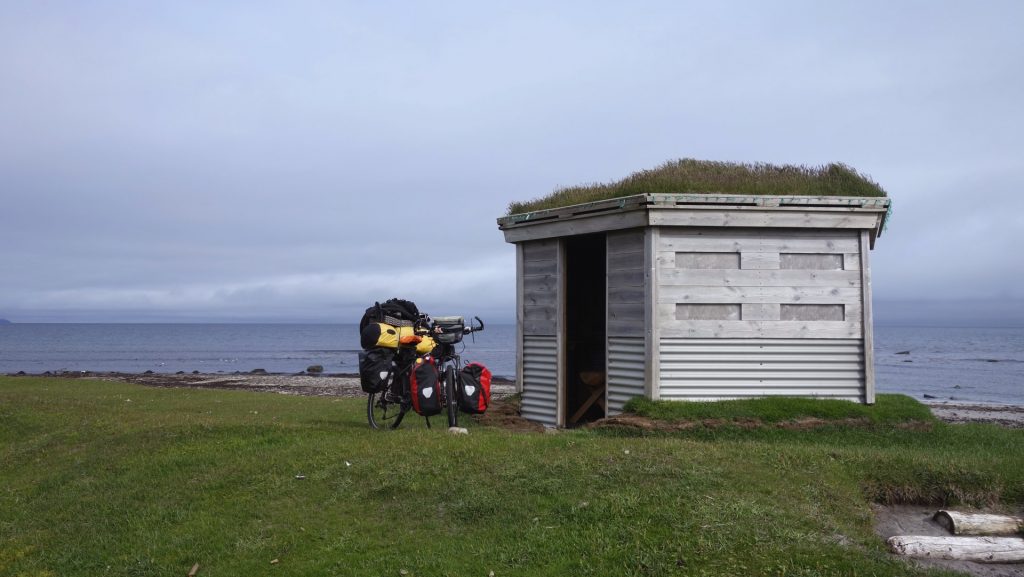 With mental dilemmas I chose this cabin so cool to rest a whole day. It is built of wood that comes floating in the sea, torn from the Siberian coast. It is a lookout of birds and the dwelling of Mickey, a little mouse that made me company that spirited day of summer.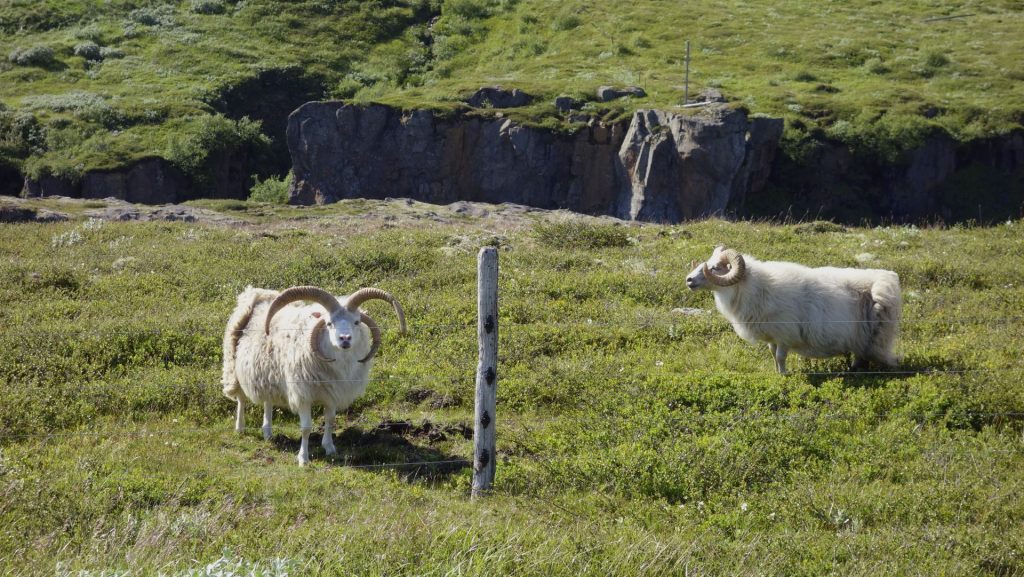 In my years of travel I have seen many sheep, but these are really pretty. Although the vast majority of them look as lost as a goat. They are my best traveling companions, and with the exception of tourists, they are the easiest living things to see along with the little birds.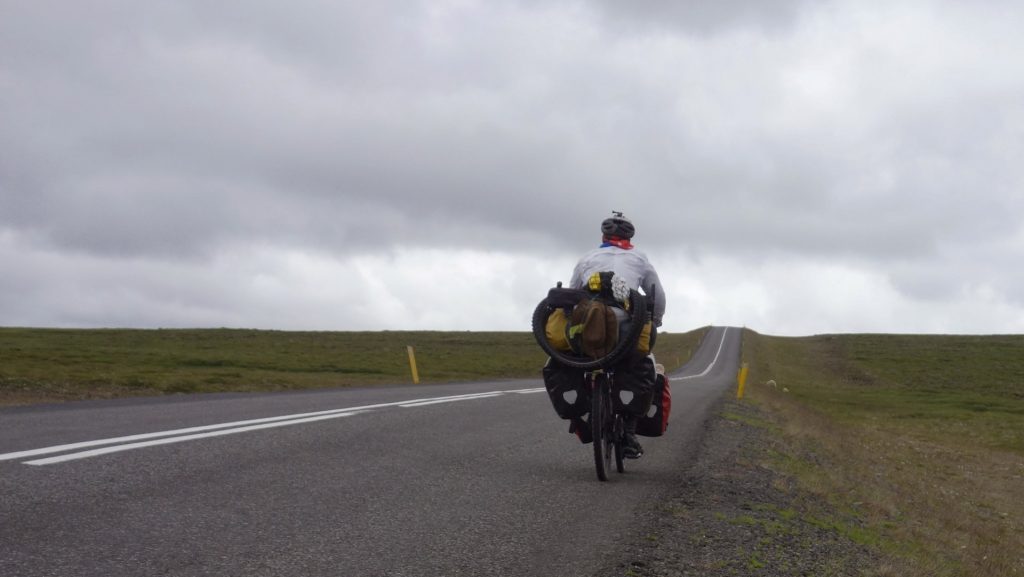 And we continue with more climbs that take the traveler to heaven. At this rate I am going to be confused with a bird for being so long in the clouds.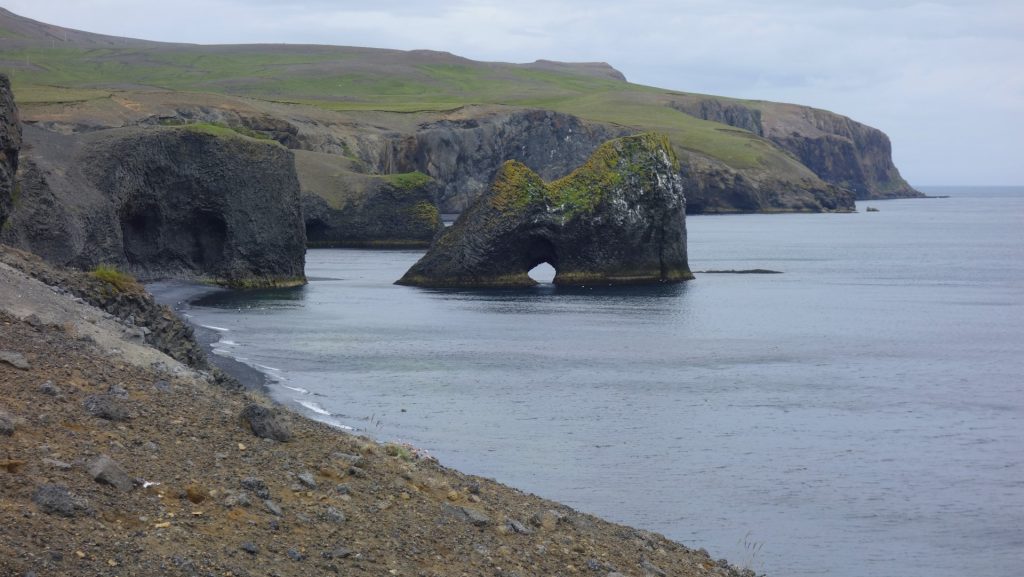 And is that all effort has its reward. Sometimes you have to leave Negrita to see these wonders of Icelandic nature. To get here I had to overcome 45km/h gusting winds, bumpy gravel roads, and last-minute rain that I soaked up to the honors. I tried to put the tent in the first place I found, but it was not well protected from the wind and I almost broke it, I had to advance at 3km/h, with opposite winds and tides to finally to be rest and dry.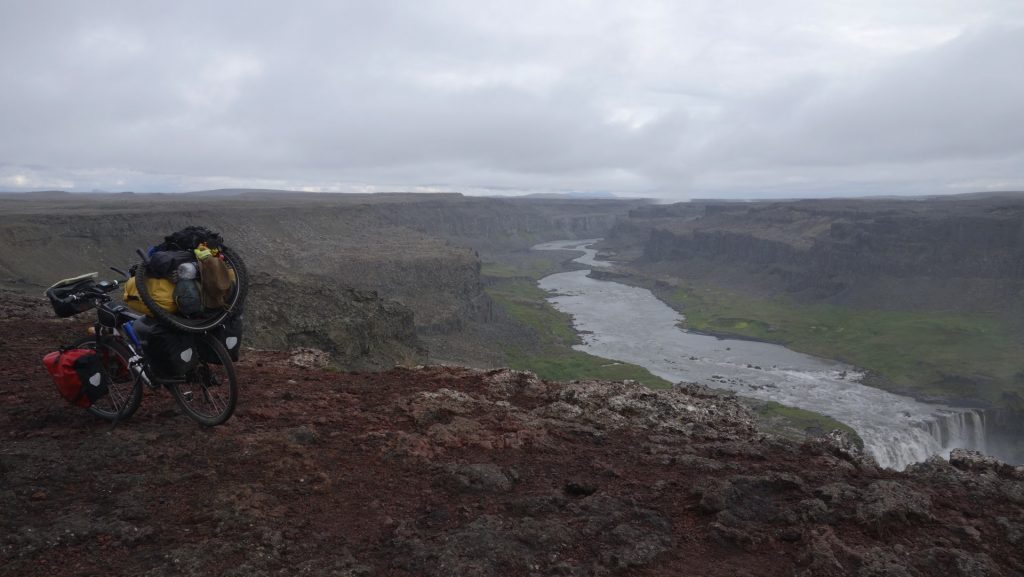 But with the awards that the island gives me I accept all kinds of suffering and abuse by the climate. The Jökulsárgljúfur valley is a unique and spectacular natural reserve. The Jökulsá river has been eroding the earth creating a canyon that inspires legends of passion.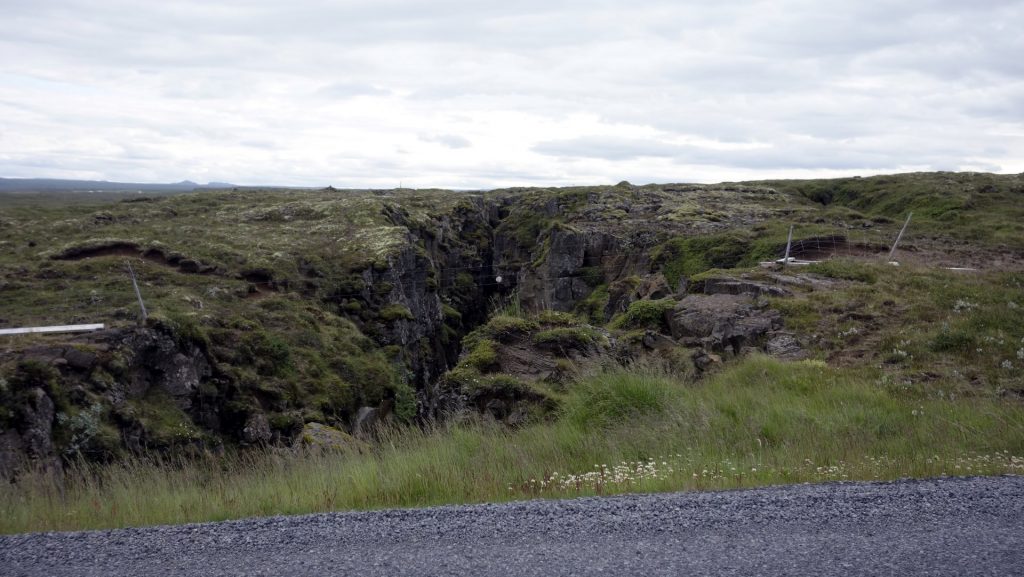 I know that in tectonic plate subjects I am no specialist, but from the line I can see in my application of the mobile about volcanoes, it runs parallel to the Jökulsárgljúfur valley and turns in the direction of Húsavík. This I found on both sides of the road, in photo does not impress, but in fact I felt when I saw this huge scar of the earth's crust that, if I entered inside, could reach the center of the earth. I promise my two Evas (curiosities of life, who warned me of this phenomenon in the Norwegian capital are called Eva, the both) get involved a little better on the intercontinental tectonic plates in my next crossing and return to Europe, at the moment I'm technically in America 😊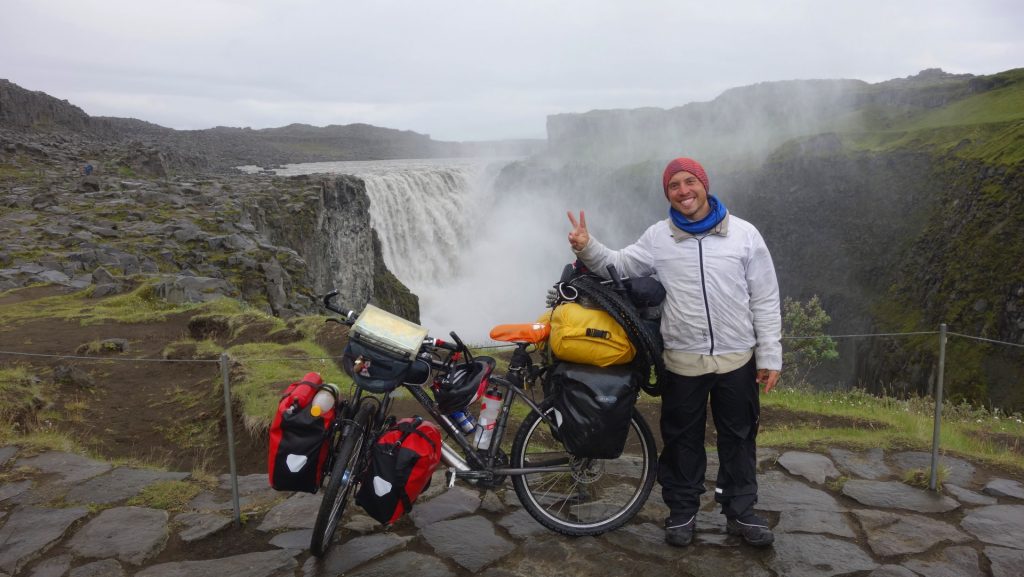 Once upon a time a traveler so stubborn that with his bike down the bowels of the great canyon of Iceland just to make this photo. But if the monument chosen is the most powerful waterfall in all of Europe, then everything has forgiveness. Welcome to Dettifoss! I can no longer say that I do not like posture, not a little…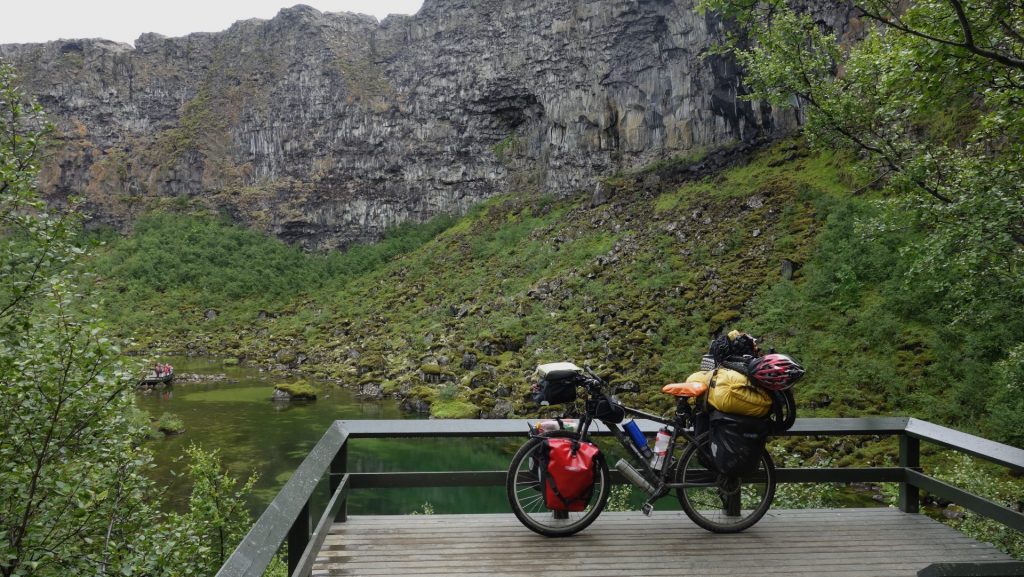 Usually they put the central part of Ásbyrgi cannon. This geological formation has the shape of a horseshoe, and like everything in Iceland has its legend. According to Viking mythology, Odin descended from the heavens with his horse named Sleipnir. When arriving at the world of the men, the divine steed trod with one of its eight legs the ground leaving its enormous footprint in him. Thank goodness that he did not give it to trample more, he would not have left the island intact, nor Viking alive to tell it!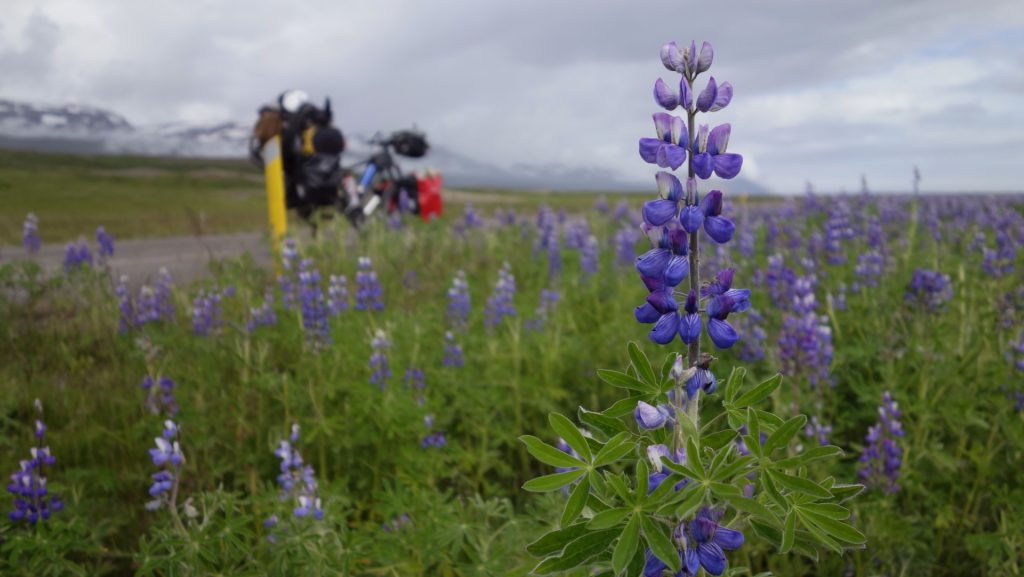 And here I will tell you some botany. This beautiful plant is the lupine, like the man, a huge invader. Due to continual land collapses, it occurred to someone to bring this plant from Canada to better hold the ground. Consequence? Seas of a purple perfumed to damisel by all the island. Obviously all the tourists we like, and surely the Icelanders too, but the native plants are losing ground. An irreparable autochthonous loss of life, which as always, is a consequence of man.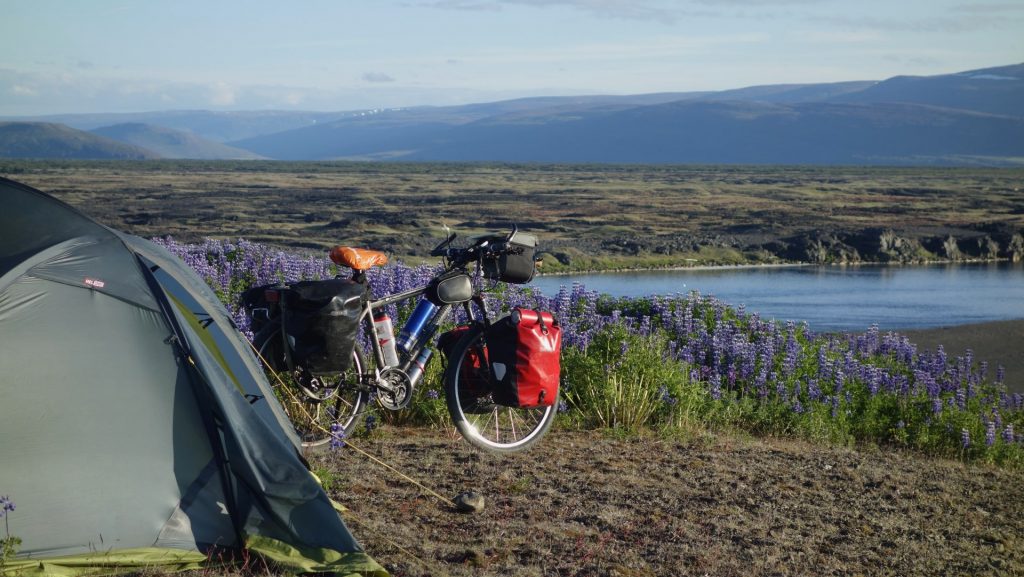 And in case someone wondered how I slept, then as a baby. I may have no light, no hot water for showers, no TV, no comfortable bed, no internet. But I have the best garden in the world, because I have the world as a garden
North Sailing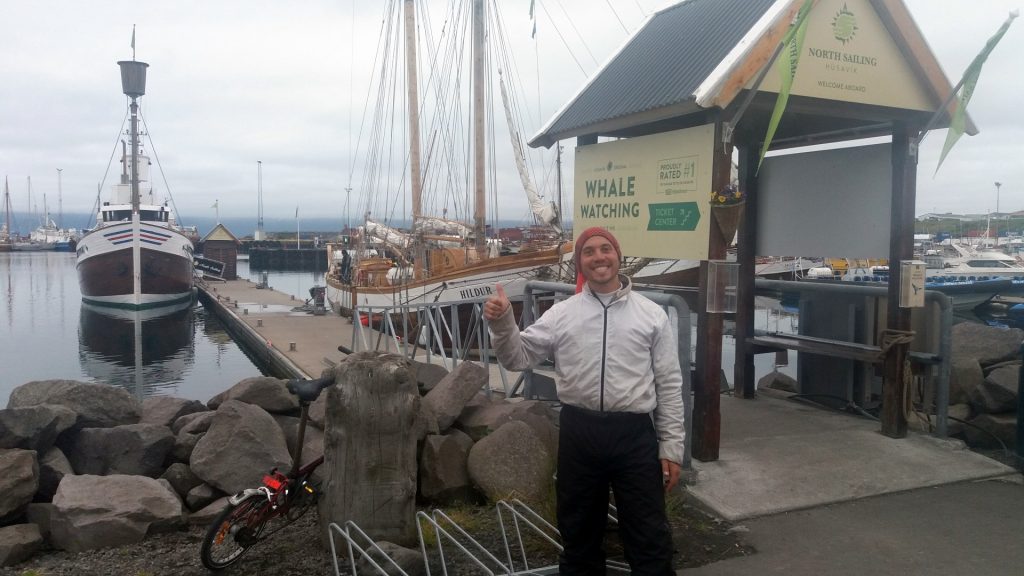 And here comes the epic moment of this post. There may be many companies in Iceland to see whales, but I was lucky they heard me, the best of them all. North Sailing is a company involved in the environment. The boat with which they took me runs with ecological fuel, the Náttfari is the best boat to enter the sea 😊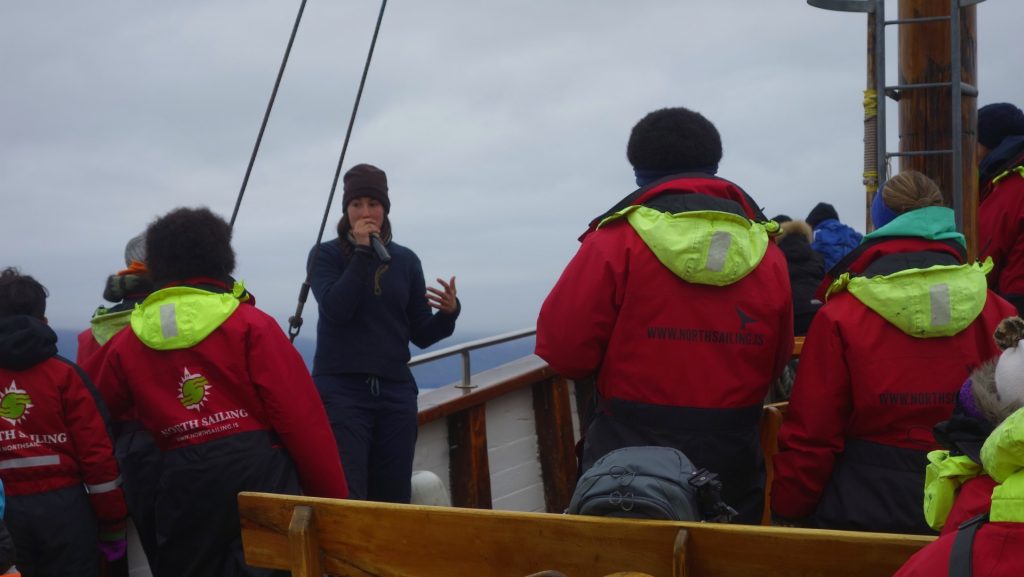 On board the entire North Sailing crew works hard to make your trip comfortable and fun. It is a three hour journey around the fjord where a guide will explain all kinds of stories, from mythological life to the first Vikings to the fjord, where the tectonic plates and distance to the Arctic polar circle pass, but above all, Will give you an exquisite explanation about the whales that will be coming out.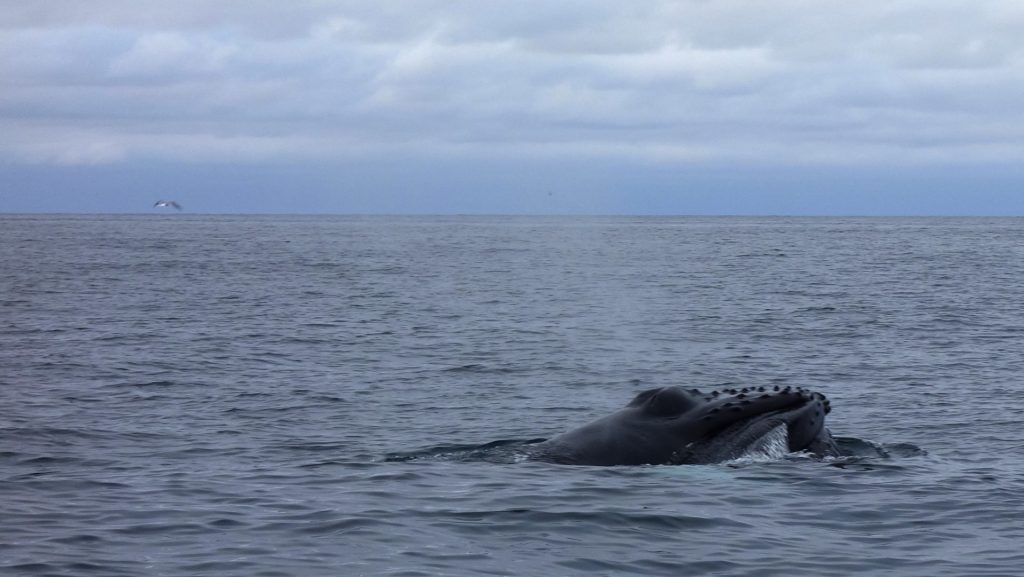 On my trip we could only see humpback whales, but we saw a lot! And it is that on one occasion we got to see up to three whales at the same time. Of the almost five hundred photos that I made only came out fairly well around fifteen, I'm sorry I'm not a photographer and my temper is like of a gelatin. So much emotion taking pictures that, before focusing, had already shot. Luckily we saw so many whales and stayed so long that even someone as bad as me taking photos came out a few very good😊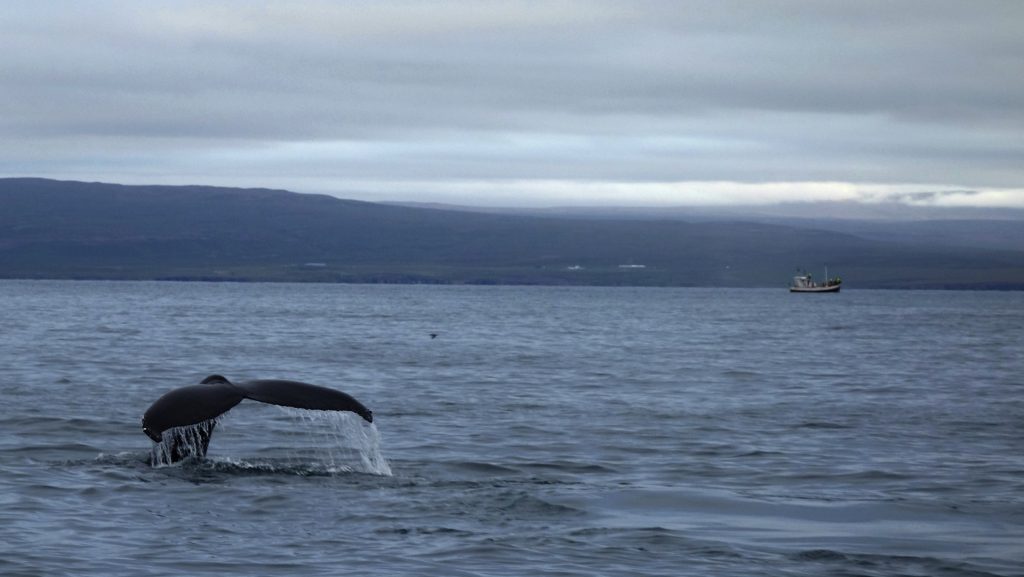 And all with the best respect for the mammal king of the oceans. Keeping a safe distance so as not to disturb the animal from its daily activity. I am honestly very happy that a company like North Sailing has given me this unique opportunity to see whales and fulfill a dream come true. Remember, if you want to see whales go to Húsavík, the whaling capital of the world, and go directly to North Sailing, they are specialists in making your trip a unique and unforgettable experience.
Although I have more stories to tell, these will have to wait for the second part of this incredible adventure called Iceland.
Thank you all for staying with me one more day. I could not go so far without all those who help me along the way, so once again, thanks to those who have welcomed me, supported and raised to be able to reach that step that I thought I would not be able to reach.
This is the end of the first part, and the first color of the Icelandic flag, blue is representing water. Be water my friend!